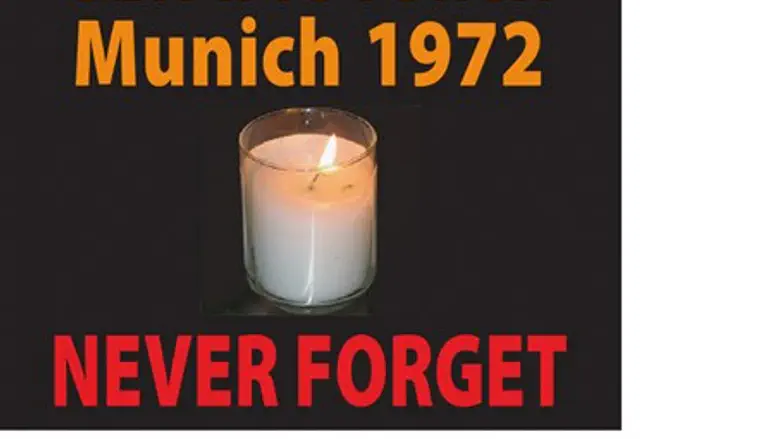 Olympic Torch
Cohen Printing, NJ
Sports lovers around the world are eagerly anticipating it. The 2012 sports-fest called the Olympics is about to begin. In some countries, TV stations will broadcast Olympic events round-the-clock—or so it will seem.
The world loves sports.
This summer's Olympic Games will not disappoint. They will be exactly like so many other recent Games, only more so: more coverage, more pictures, more competition, more celebration-- and more security. A lot more.
It may not be enough.
The star attraction for this year's Games will not be swimmers or runners. It will be Jews. By Olympic sports standards, Israel is a micro-player. But she will stand at stage-centre during the entire Olympics.
Israelis may win no medals, although they have high hopes. But every morning, sports fans around the globe will start their day with the same question: did anything happen to the Jews overnight?
The Games—the terror Games, that is—have already begun. A week before the Olympic opening ceremony, a bomb went off inside a Bulgarian tour bus carrying Jews. Six were killed, five of them Jews, many injured. A Muslim terrorist group called Ka'adat el-Jihad claimed responsibility for the killings.
In case you forgot, the Islamic holy month of Ramadan coincides this year with the Olympic Games. That's an important juxtaposition because, as the killers who blew up that Bulgarian bus declared in an email, this year's Ramadan could become for Muslims a month of Holy War and violence.
If Westerners—fans or athletes--are killed as the entire world watches the Games, this Ramadan could become unique: Jihadists will call it the month that Holy War became world-famous.
It would be one of the greatest statements Jihad has ever made and, thanks to the feeding frenzy that characterizes modern TV news, any Jihadic violence will be played and replayed countless times across the globe until billions have seen it; and the more spectacular the violence, the greater will be the reaped glory from their followers.
A Jihadic 'event' at the Olympics can become the single most successful recruiting instrument Jihad has ever had. Muslims will dance in the street every night of the remaining Ramadan. They will revel in the news that Islam dominates world-wide TV coverage. They will celebrate how their credo gives them such holy publicity.
The threat of violence is magnified this year because 2012 is the 40th anniversary of the murder of eleven Israeli Olympians during the 1972 Munich Games. There is, of course, no time for a moment's silence in their memory, but the Jihadists may be planning to take time out on their own.
A violent attack now could become Jihad's eternal Olympic signature. What better way to celebrate forty years of Holy War against Little Satan and Big Satan than to start with a 1972 Olympic spectacle and end with an even greater spectacle in 2012! With both Ramadan and this fortieth anniversary coming together at the same moment, a Jihadist might believe this is a sign that it is indeed a propitious time to strike.
The Israelis take all of this seriously. They are working with the Bulgarians to identify everyone associated with the bus bombing, to see if there is any connection to individuals in London. They work with British police and military to make sure that security for Israeli athletes is at its highest level.
We pray they will be successful.
The British, meanwhile, seem to be just as serious about this threat. According to reports, there will be as many as 24,000 police, military and private security forces deployed throughout the Games. Britain's MI5 Intelligence Unit and its Scotland Yard are reportedly working with Israel's Shin Bet. Israel's athletes are to receive enhanced protection.
This threat also explains why there are reported to be surface-to-air missiles installed at six locations around the Olympic village.
It's why London police have begun picking up individuals whose behaviour appears suspicious, even if they have no obvious link to the Olympics.
Will these precautions be enough? We pray so—but if the driving force behind this threat is Iran, the answer may be, no.
Frimet and Arnold Roth recently appeared on the blogsite, Love of the Land (July 22, 2012, 'This Ongoing War', calevbenyefuneh.blogspot.com), documenting eleven Iran-sponsored terror attempts since January 2012.
Each of these attempts targeted Israelis outside Israel. If these eleven attempts are warm-ups for the Olympics, Iran could be bringing to London its terror A-team.
Since the West has been cowardly in dealing with Iran, no one can predict what will happen if something happens in London.
So far, the Iranians have been targeting primarily Israelis. But we know from their speeches that Iranian leadership has hostile intent for the West as well as for Israel. Will this be the moment we see that intent actualized?
The Olympics are a very big stage. They used to be about sports competition. Now, the big story could be Iran-sponsored Olympic Jihad.
If Iran-surrogates attack, what will the West do? Not much. The cowardly lion fears the Jihad.
We should pray for a safe Olympics.
The writer taught at the University of Pittsburgh where he also received his doctorate. He made aliya recently with his wife and lives in Maaleh Adumim, writes frequently for Arutz Sheva. The accompanying photo is by Cohen Printing, Teaneck, NJ and was sent to Arutz Sheva with permission to reprint.