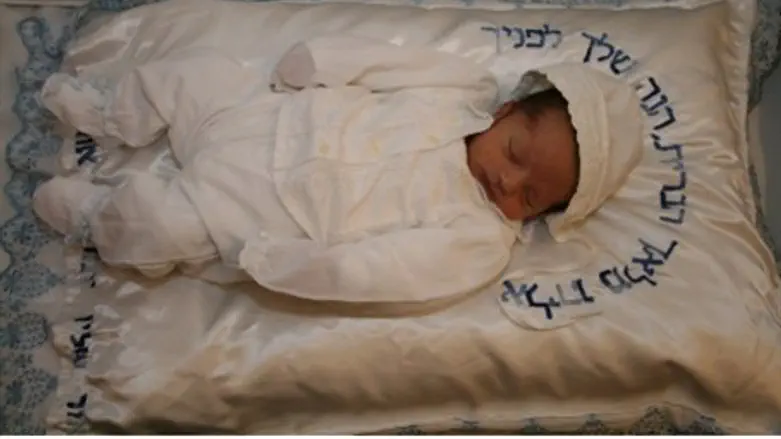 Baby on day of circumcision
Israel news photo: Flash 90
Two Swiss hospitals have banned circumcision, accepting the ruling of a German court that ruled the Jewish and Muslim rite illegal but ignoring a German resolution protecting the custom, rooted in Biblical law.
The German resolution urges the government to pass legislation to protect circumcision that is carried out according to medical standards and with as little pain as possible.
Zurich University Children's Hospital announced it would prohibit the procedure in non-medical cases until it considers legal and ethical issues, the Swiss Local newspaper reported. The Zurich hospital averages approximately one circumcision every month or two.
The St. Gall Hospital followed suit.
The ban by Swiss hospitals does not affect circumcisions elsewhere, usually in synagogues, by a "mohel," the Hebrew word for those who perform the procedure, which is carried out on babies on their eighth day unless there are medical considerations that demand a delay.
The German court ruling affected all circumcisions in the country and was handed down after a case in which a four-year-old Muslim boy was hospitalized after excessive bleeding following a circumcision. 
German Chancellor Angela Merkel urged the government to legislate around the ruling, saying it would make Germany a "laughing stock."