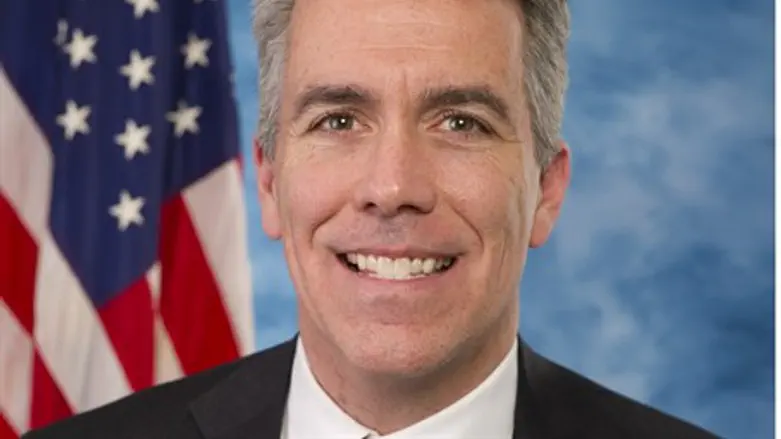 Congressman Joe Walsh
Arutz Sheva photo: Office of Rep. Walsh
Illinois "Tea Party" Rep. Joe Walsh is urging congressmen to co-sponsor a resolution adopting the "Levy report" and recognize Jewish communities in Judea and Samaria.
The report was issued two weeks ago by a three-man panel of legal experts headed by retired High Court Edmund Levy. It concluded that not only is Israel not an "occupier," but also that Jews have a legal right to live in the areas restored to the country in the Six-Day War in 1967.
Walsh, who is fighting for his political life in the November election because of his re-drawn district, is lobbying other Congressmen to coo-sponsor a resolution that would adopt the Levy Report, which is in total contradiction to American policy.
His district now is comprised of a Democratic-leaning constituency, and in November he will face Democrat Tammy Duckworth,  who has far outpaced Walsh in fundraising so far.
Walsh's initiative is not expected to succeed. Last year, he gathered only 30 co-sponsors for a resolution to back Israel's annexing all of Judea and Samaria if the Palestinian Authority were to go ahead with its bid to the United Nations for recognition. The PA ultimately dropped its requests after realizing it would fall short of the needed two-thirds majority in the United Nations Security Council.
"The House needs to make this statement, if the [Palestinian Authority] continues down this road of trying to get recognition of statehood, the U.S. will not stand for it. And we will respect Israel's right to annex Judea and Samaria," Walsh said at the time.
Walsh's current initiative follows a recent conference in Washington with Likud Knesset Member Danny Danon, who said, "With the support of the United States, it will be possible to begin exercising sovereignty over Jewish communities in  Judea and Samaria." They currently are under the authority of the Defense Ministry, headed by Ehud Barak, who has blocked hundresds of requests from Jews to build homes.
Danon explained at the conference that acceptance of the Levy report would  eliminate legal obstacles for building and developing Jewish communities.
The U.S. State Department rejected the report, stating that "we do not accept the legitimacy of continuing Israeli moves" on behalf of a Jewish presence in Judea and Samaria.
The left-wing J Street lobby is campaigning against Walsh and other congressmen who the lobby says are "not pro-Israel" because of their nationalist stand.