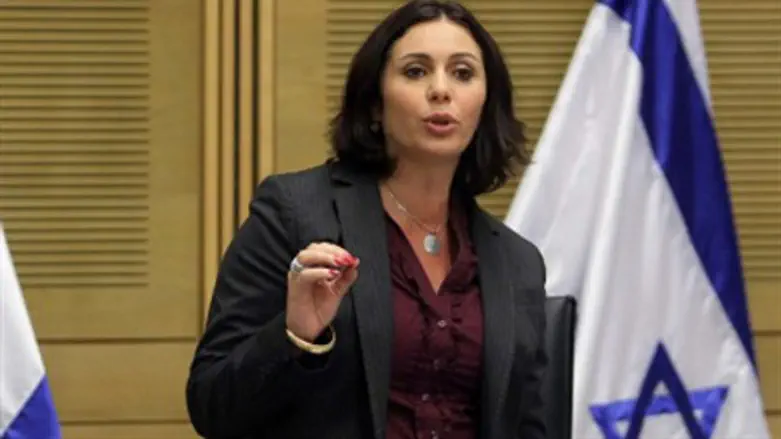 Likud MK Miri Regev
Israel news photo: Flash 90
The Knesset's Internal Affairs Committee will debate two proposals Monday that aim to deter illegal entry to Israel. Several organizations have expressed concern over the proposed laws, and sent a letter to committee head MK Amnon Cohen (Shas) warning against sending the bills to a vote in Knesset.

The proposed laws, put forth by MKs Miri Regev and Ophir Akunis of Likud, would punish Israeli citizens who employ illegal entrants or rent housing to them.

The organizations attempting to torpedo the bills include The Association for Civil Rights in Israel (ACRI), Doctors for Human Rights, Amnesty International, and several other groups that, in Israel, are generally associated with the far left.

Attorney Debbie Gild-Hayo of ACRI said, "It seems that some MKs are competing amongst themselves to see who can initiate the wildest legislation that won't help… and will add to the atmosphere of incitement and violence." She praised Cohen as "determined to hold the discussion in a balanced manner; he won't let it turn into a platform for attacks on refuge-seekers."

Groups against the bills argue that the proposals would turn innocent civilians into law-breakers, and would worsen the situation in neighborhoods that are home to many illegal entrants, because illegal entrants would become more desperate and hence more likely to turn to crime.
MK Regev has faced controversy relating to illegal entry before. In May, she was harshly criticized for saying that illegal immigration has "spread like cancer" in Israel.