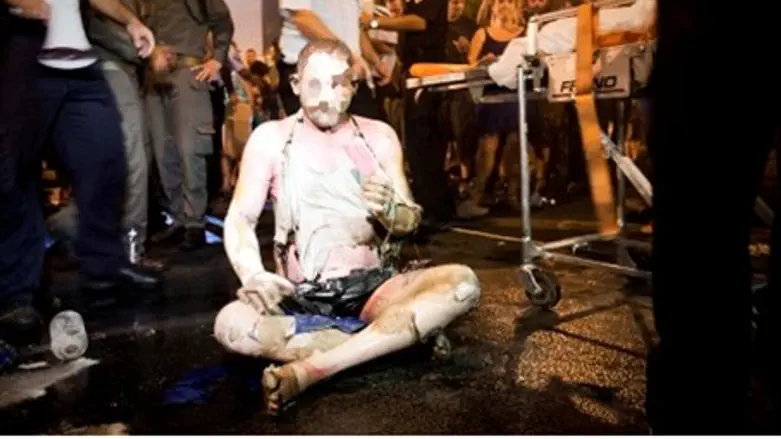 Moshe Silman after he set himself on fire
Israel news photo: Flash 90
Medical staff at Sheba Medical Center determined Friday that Moshe Silman, the protester who set himself on fire Saturday, has died.
Silman, 57, suffered burns on 90% of his body and was evacuated to the hospital in critical condition. He was held in the Intensive Care Unit for six days, where he was anesthetized and respirated, until his death.
Silman arrived at the "social justice" demonstration in Tel Aviv with a container of flammable liquid. During the protest, he poured it on himself and set himself on fire. Police and other protesters doused the flames, but Silman was already critically injured.
Silman left behind a letter in which he accused Israeli bureaucracy of humiliating him and denying him public housing. "I did reserve duty until age 46 and lost my ability to work. I do not want to live in the street," he wrote. "The state of Israel robbed me and stole from me, and left me with nothing."
Silman named Prime Minister Binyamin Netanyahu among the people he blamed for his situation, and the media seized upon this.
Speaking at Sunday's cabinet meeting, Netanyahu called the self-immolation "a great personal tragedy."
"I wish him a speedy recovery. I have asked the Welfare and Housing ministers to investigate the matter," he said.