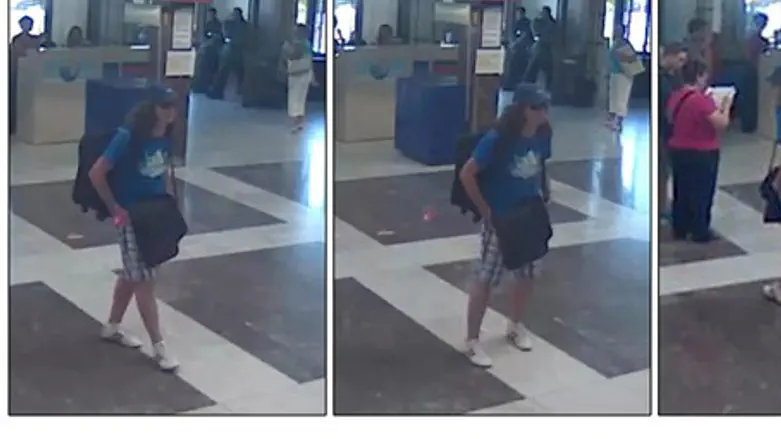 Combination of photos shows bomber suspect
Reuters
Bulgarian officials have posted a photo of a suspect they believe was the suicide bomber who attacked an Israeli tour bus, killing six and wounding 32 others.
The photo, handed out to media by the Bulgarian Interior Ministry, shows a young, long-haired Caucasian man wearing a non-descript blue tee shirt, shorts and sneakers, a baseball cap and a large backpack. 
Several other tourists in the photo are similarly garbed, also toting large backpacks on their backs, but the packs are not quite so large or square.
A combination of still pictures taken from CCTV surveillance camera and video surveillance footage at Burgas airport showed, however, that the suspected bomber was similar in appearance to tourists arriving at the airport, Bulgarian Interior Minister Tsvetan Tsvetanov said.
He told reporters Thursday that the suspect in the photographs appeared on security camera footage near the Israeli tour bus for nearly an hour before the bombing. The terrorist was allegedly 36 years old, and had arrived in Bulgaria between four to seven days prior to the attack, according to Reuters.
The bomber was killed along with one Bulgarian national and five Israeli citizens in the explosion, which gutted the airport in Burgas, a city near the Black Sea.
Authorities have managed to obtain a DNA sample from the suspected bomber's fingers, Tsvetanov said, and have been attempting to obtain an identification together with the FBI and CIA.
Three people were critically wounded, and were flown to a hospital in Sofia. Another 32 Israelis were also injured, and were flown back to Israel Thursday. 
According to a Magen David Adom (MDA) paramedics who was interviewed on Army Radio earlier in the day, some of the injured sat for hours without treatment in the Bulgarian airport, refusing to allow anyone to touch them until an Israeli medical team arrived.