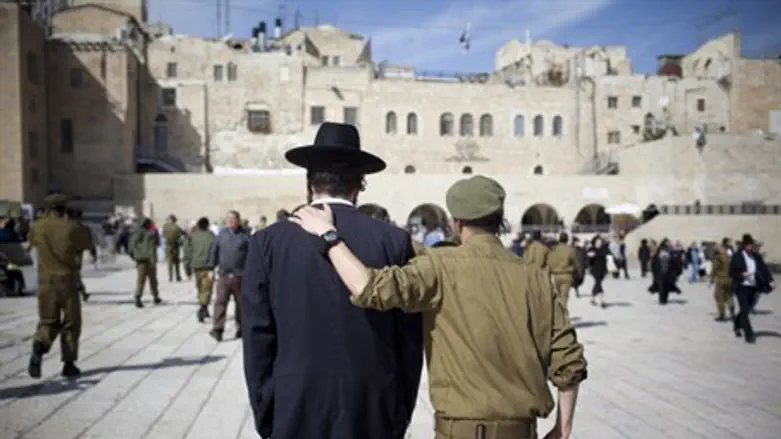 Hareidi enlistment
Israel news photo: Flash 90
Vice Prime Minister Moshe Yaalon (Likud) leveled harsh criticism at the Kadima party Wednesday, one day after it left the coalition, claiming differences over attempts to draft a bill to obligate the hareidi sector in IDF service.

Kadima joined the government in an attempt to create a rift between Likud and its hareidi coalition parties, Yaalon told IDF Radio (Galei Tzahal). When that did not work, it decided to leave and to present itself as the "pro-enlistment" party and the Likud as the "pro-draft-dodgers" party, he said.

Yaalon defended the Likud's more cautious approach regarding hareidi enlistment. "You can't change what has been reality for 64 years in a single 'boom,'" he said. "In particular, you can't wage war on an entire sector of society."

The less aggressive approach has been yielding fruit, he added. "We are seeing a positive trend in hareidi society," he said. Hareidi society is increasingly joining the workforce, and more and more hareidi men are enlisting in the IDF. The community is growing used to the sight of young men in uniform, he noted.

Yaalon expressed disappointment in MK Yochanan Plesner (Kadima), who headed a Knesset committee on the subject of "sharing the burden" of enlistment.

When he sat down to talk with Plesner, Yaalon recalled, he believed the two were part of a historic process. Now, he said, he believes Plesner may have intentionally undermined talks. As an example, he noted that Kadima's demand that hareidi men be required to enlist from age 23 is new, and the party formerly called for enlistment only from age 26.

"The sense that an opportunity was missed haunts me," he said. If MK Avi Dichter had sat in place of Plesner, he said, an agreement would have already been reached.