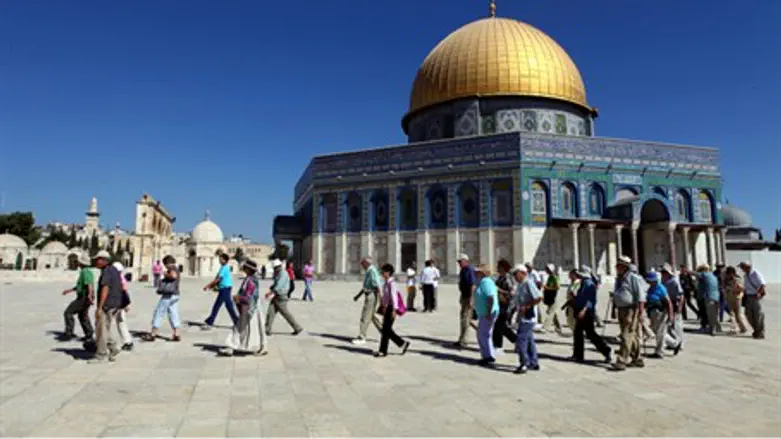 Visiting the Temple Mount
Israel news photo: Flash 90
An Islamic official in Jerusalem said Tuesday that a statement by Israel's Attorney General that Israeli law must be applied to the Al-Aqsa Mosque complex in Jerusalem is a "violation against Muslims and Palestinians," according to a report in the Bethlehem-based Ma'an news agency.
The comments came in response to reports in the Israeli media that Attorney General Yehuda Weinstein has said that the Temple Mount in Jerusalem is part of Israeli territory so Israeli law applies there, including antiquities laws and laws regarding building and planning.
According to a Tuesday morning report by Kol Yisrael radio, Weinstein said that at the same time, the law had to be applied with extra sensitivity and pragmatism, due to its unique nature.
Weinstein's words were among instructions sent last month to legal advisors for the Israel Antiquities Authority, the Jerusalem municipality and the police. The instructions also said that in spite of the sensitivity, the authorities must constantly supervise the site to get a comprehensive picture of work being carried out there and protection of antiquities. He said the authorities should consult with him if they suspect violations of antiquities and planning laws.
In response, Abdul Rahman Abbad, the head of the Muslims' scholars council in Jerusalem, told Ma'an, "Muslims are the only ones who own this mosque."
He insisted that religious authorities are not bound by Israeli decisions, and warned of Israel's intentions in issuing such a statement ahead of the holy month of Ramadam, when Muslims flock to the compound.
The Temple Mount was left in the hands of the Waqf following Jerusalem's reunification in 1967, a decision of then-Defense Minister Moshe Dayan. The Waqf has taken advantage of this and removed every sign of ancient Jewish presence at the most Jewish holy site. At the entrance, a Waqf sign says, "The Al-Aqsa Mosque courtyard and everything in it is Islamic property".
Police, in an attempt to appease the Waqf, discriminate against Jews. They limit the number of Jewish worshippers allowed on the Temple Mount at one time in order to prevent conflict with Muslim worshippers. They often close the Mount to Jews in response to Muslim riots – despite evidence that Muslim riots have been planned in advance for the specific purpose of forcing Jews out.
Waqf officials recently told a young Jewish man to remove his kippah on the Temple Mount. The young man was visiting the Mount, Judaism's holiest site, as part of a tour group from Europe. When Waqf officials saw his kippah, they ordered him to remove it, saying, "This is a holy place."