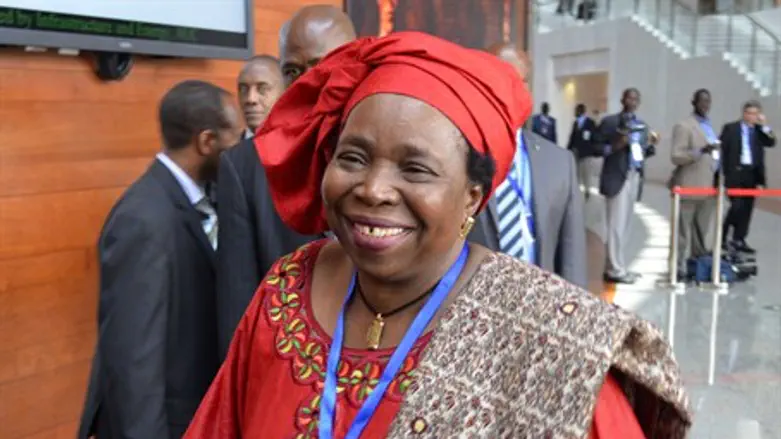 Dr. Zuma
Reuters
Nkosazana Dlamini-Zuma, South Africa's home affairs minister, and the former wife of South African president Jacob Zuma, was elected chair of the African Union commission.
Her former husband exulted that her election would empower women in Africa. Zuma knows a thing about empowering women - he has 4 wives.
She is the first woman to occupy the post.  The African Union overcame inner divisions and rivalries to finally break a deadlock and elect the South African candidate.
The fact that a South African won was a precedent for the union. Up to now, the union has elected representatives of smaller states within the continent due to the competition between South Africa, Egypt and Nigeria over who will lead the continent. Each of the 3 countries is hoping that with an expansion of the number of permanent members on the Security Council, it could claim the African seat.
It was to South Africa's advantage that both Egypt and Nigeria were preoccupied by internal problems: Egypt had the standoff between the Muslim brotherhood and the generals, while Nigeria is contending with Moslem terrorism targeting both churches and government symbols.
Dlamini-Zuma is the first person to occupy the post from southern Africa. She defeated Jean Ping of Gabon, who enjoyed the support of Nigeria and Egypt. Erastus Mwencha, a Kenyan, was elected vice-chairman and this also broke a tradition, as now both top positions will be held by members of Anglophone states. It was previously a custom that the top 2 jobs would be divided between an Anglophone and a Francophone.
Ping lost support when he accused Zuma of running a country that is dominated by foreigners. The economies of most African countries are permeated by foreign interests. Some African states accused South Africa of arrogance and lording it over the poorer states.
Dlamini-Zuma will have to take these feelings into account when she tries to repair the damage caused by the split over policy in the Ivory Coast and Libya.
The 63-year-old chair is a doctor by profession. She became an activist of the African National Congress in the apartheid days and after the first free elections in South Africa, she became Minister of Health in the cabinet of Nelson Mandela. She later became associated with Jacob Zuma's rival in the ANC, Thabo Mbeki, and resigned from the cabinet when Mbeki was ousted from the leadership of the ANC by her former husband.
As Dlamini-Zuma has been suggested as a candidate for president of South Africa on a few occasions, kicking her upstairs to the Ethiopian capital of Addis Ababa rids Jacob Zuma of a possible rival in his reelection bid.