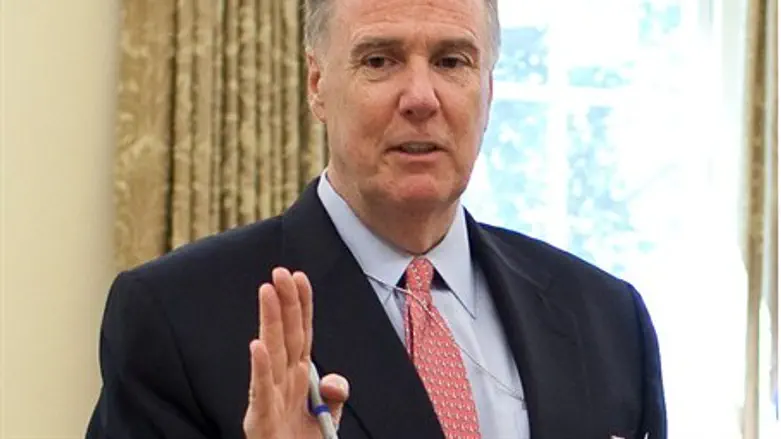 Tom Donilon
White House
President Barack Obama's National Security Advisor Tom Donilon visited Israel secretly over the weekend in what one Israeli newspaper says was an attempt to convince Israel not to attack Iran's nuclear facilities.
He met with Prime Minister Binyamin Netanyahu, Defense Minister Ehud Barak and National Security Advisor Gen. Yaakov Amidror.
"National Security Advisor Tom Donilon visited Israel from July 14-15 for consultations with Prime Minister Netanyahu, Defense Minister Barak, and National Security Advisor Gen. Amidror," the White House said in an official statement Sunday.
"In these meetings, the National Security Advisor reaffirmed the United States' unwavering commitment to Israel's security. His visit was the latest in a series of ongoing U.S. consultations with Israeli officials on a range of regional security issues."
Maariv-NRG says Donilon's visit reflects heightened U.S. concern that Israel intends to attack Iran sometime during the summer or early autumn. That concern has been heightened by the recent failure of talks between western powers and Iran. The news site estimated that the visit was intended to convince Israel not to launch an attack anytime soon.
Israel has said repeatedly that Iran's nuclear weapons program is in a critical stage and that further delay of an attack upon it would enable Iran to move the program underground. Following that, stopping the program will become next to impossible without a full scale war of annihilation.
Israel would prefer the U.S. to lead an attack on Iran instead of facing it alone. An Israeli attack could have unforseen consequences on the volatile Middle East, and a U.S.-led strike is seen as something Arab regimes will accept slightly more easily. In any case, repercussions against Israel are expected.
Defense Minister Barak has estimated that up to 500 Israelis could be killed in an attack by Iran and its proxies on Israel.