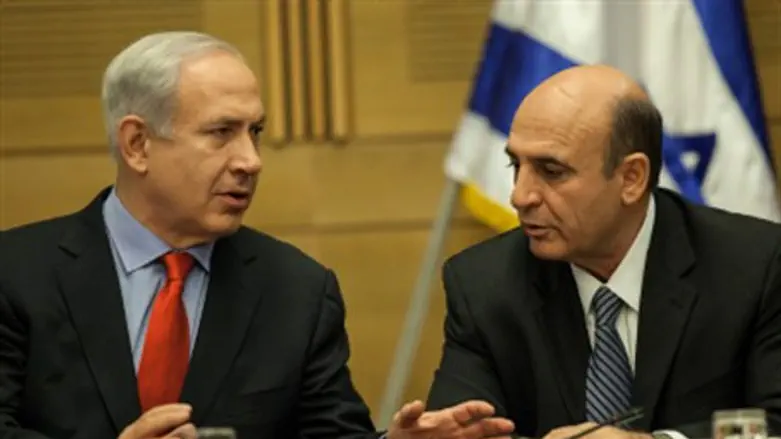 Netanyahu and Mofaz
Israel news photo: Flash 90
Prime Minister Binyamin Netanyahu hinted Sunday that he believes Kadima wants to leave the coalition government, just over two months after it joined it in early May.
Netanyahu did not say this outright, but voiced agreement with Education Minister Gideon Saar, who said at the weekly cabinet meeting: "Kadima wants to break up the partnership, it's all a game."
According to IDF Radio, Netanyahu then commented: "There is much truth in this statement."
Kadima and its leader, Minister Shaul Mofaz, have threatened to leave the coalition if the party's hard-line version of the hareidi enlistment law is not legislated. Likud minister Moshe Ya'alon has said that Kadima's bill reflects the fact that its author, MK Yohanan Plesner, "wants war" with the hareidim. 
MK Plesner's bill sets a maximal number of hareidi Torah scholars who would receive exemption from military service, and would place personal sanctions on anyone else who does not enlist. Likud favors a more gradual approach, which enlarges the number of hareidim who enlist over a period of years, without setting a maximum number of exemptions.