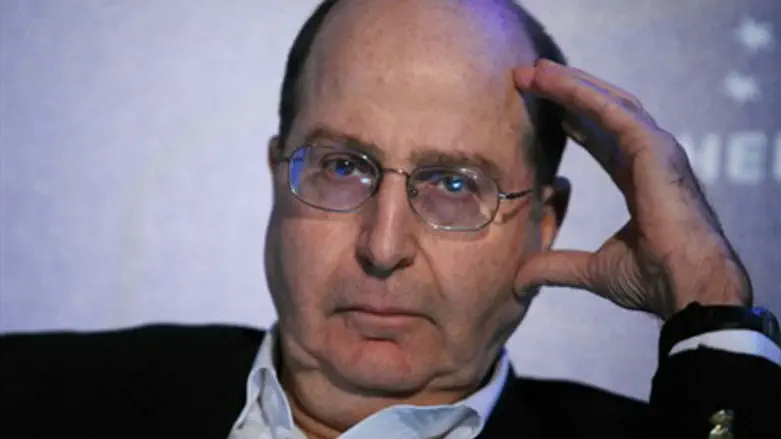 Moshe "Bogie" Yaalon
Flash 90
Deputy Prime Minister Moshe Ya'alon is blaming the failure of negotiations to replace the Tal Law on the Kadima MK who was tasked with creating a solution to the problem.
A working group that followed the so-called Plesner Committee was headed by Likud Minister of Strategic Affairs Moshe Ya'alon together with Kadima MK Yohanan Plesner, and was intended to find a compromise between the law that enabled rabbinic students to continue deferments from the draft and demands to recruit hareidi-religious men who were not actively learning in yeshivas full time.
The committee was a last ditch effort to keep Kadima in the government after the previous Plesner Committee, which called for a straight universal draft that would have recruited all hareidi-religious Jews regardless of status, was disbanded by Netanyahu.
"Plesner acted against his own committee and declared war on the Orthodox Jewish community," Ya'alon said on the interview program, "Meet the Press."  
"I felt there were politics in play. Anyone who thinks they can draft the entire hareidi-religious world at one time doesn't know what he is talking about," he said.
He added that an Orthodox draft should be carried out gradually and in agreement with the rabbonim. "One can integrate hareidi-religious soldiers into the army, gradually, but this should be done without conflict, and it can be done. You cannot declare war on the Orthodox. In recent years, there has been a trend towards a rise in the number of recruits. The military must build units and service programs that can fit the Orthodox," he said.
"The prime minister made the decision to create a unity government, with a sense of historic opportunity, and the Orthodox world understands this. I do not know how it will end, but a national task is at hand, and we must not miss this chance."