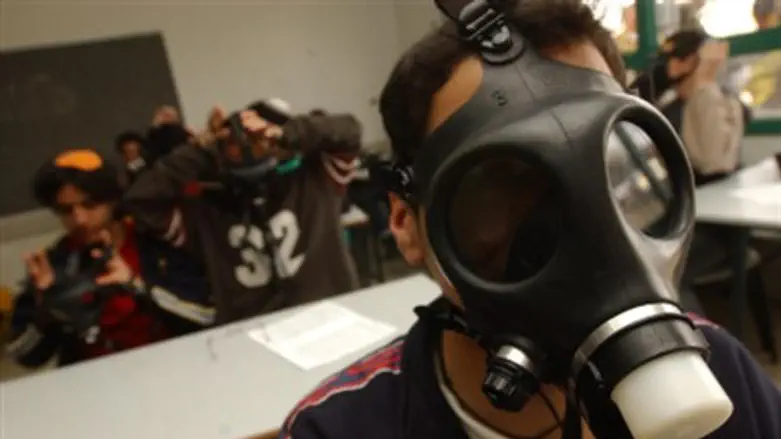 Gas masks in Israeli school drill (file)
Israel news photo: Flash 90
Syria has begun moving parts of its vast arsenal of chemical weapons out of storage facilities, U.S. officials told the Wall Street Journal.
The country has vast undeclared stockpiles of sarin nerve agent, mustard gas and cyanide, according to the report. American officials have different opinions regarding the logic behind the decision to move the chemical weapons out of storage.
"Some U.S. officials fear Damascus intends to use the weapons against the rebels or civilians, potentially as part of a targeted ethnic cleansing campaign," writes the Journal. Others said  strongman Bashar Assad "may be trying to safeguard the material from his opponents or to complicate Western powers' efforts to track the weapons."
Another opinion was that Assad is moving the weapons as a feint, "hoping the threat of a chemical attack could drive Sunnis thought to be sympathetic to the rebels from their homes." Yet another assessment is that the move is connecte with a plan Assad has, to create an enclave controlled and populated only by his Alawite minority sect.
"This could set the precedent of WMD [weapons of mass destruction] being used under our watch," a U.S. official said. "This is incredibly dangerous to our national security."
"This is absolutely ridiculous and untrue," said Syria's foreign ministry spokesman, Jihad Makdissi, in response to the report. "If the U.S. is so well-informed, why can't they help [U.N. envoy] Kofi Annan in stopping the flow of illegal weapons to Syria in order to end the violence and move towards the political solution?"
Officials said that if Assad uses chemical weapons, Western allies would probably go ahead with plans to intervene in the Syrian civil war more aggressively than they have until now and topple him from power.