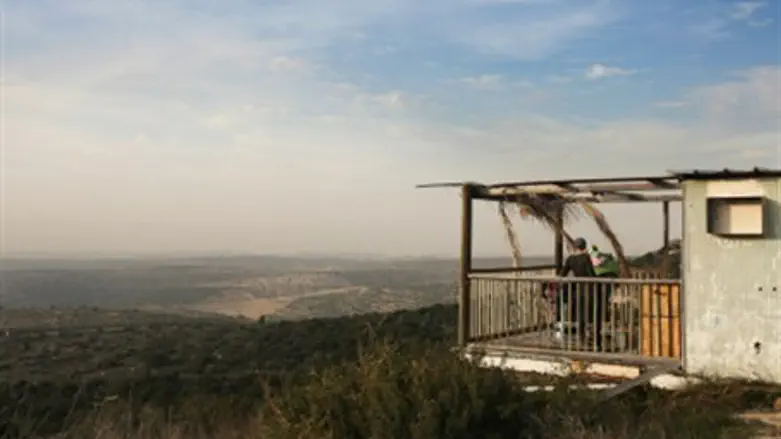 Ramat Gilad in Shomron
Israel news photo: Flash 90
It was the late Yitzchak Shamir who declared from the Knesset podium that the Land of Israel belongs to the Jewish people, "and why? Because!"
Thursday afternoon, the second annual conference calling for the application of Israeli law on Judea and Samaria (Yehuda and Shomron) began at the Visitors Center in Hebron. The conference is attended by government ministers, Members of Knesset and other public figures, who will discuss a variety of issues concerning  Judea and Samaria, including the legal, economic, demographic, security and ideological aspects of application of sovereignty.  
One of the sponsors of the conference is Women in Green,a group that has been constantly working for advancing Israeli sovereignty over Judea and Samaria.  Nadia Matar, head of the organization, said, "Women in Green has come to the conclusion that working on solving local problems is not enough.  In the past, the organization has protested in reaction to different initiatives from the left or the Arabs trying to expel Jews from a hilltop or a house bought in Arab village, and vandalizing or stealing Jewish property, but now the time has come to deal with the root of the problem, which is applying Israeli sovereignty over Judea and Samaria. Enough with the local problems!"
A problem that faces anyone attempting to apply Israeli law over Judea and Samaria is how to deal with the local Arab population. This initiative would, at the very least, add more than a million Arabs to the State of Israel.  To address this problem there will be a range of ideas suggested ranging from giving them full citizenship immediately, waiting a few years and letting them prove loyalty before gaining citizenship, and others. 
"However, applying Israeli law over Judea and Samaria needs to be complemented by a wave of aliyah," declared Matar. 
The conference will be held in Hevron because that was the capital of the Jewish state before Jerusalem, according to Matar. She said, however, that there are plans in the future to hold the conference at other venues across the country. 
"Geula Cohen once said that when we annex Judea and Samaria, we will be connecting Tel Aviv to Hevron, and not the opposite. This conference which is being attended by MKs and public figures will be part of continued efforts by the Knesset lobby for the Land of Israel and other organizations in promoting the goal of applying sovereignty on Judea and Samaria, which should have been done 45 years ago.  We will all pledge at the conference to keep working toward this goal because we know there is a lot of work ahead.  Maybe it is mishamiym (from heaven) that the Levy report came out only a few days before the conference."