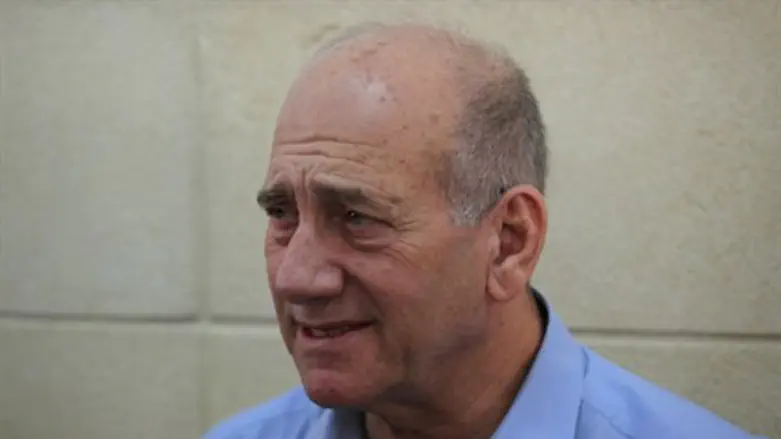 Ehud Olmert
Israel news photo: Flash 90
Former prime minister Ehud Olmert denied on Thursday the reports that he intends to go back into politics.
"I have been reading over the last few days about my plans and I want to calm down all those who are worried: I have no intention of entering political activity," Olmert said, in the course of a speech at the Institute for National Security Studies (INSS) in Tel Aviv. "I am not involved with any shelf party. I have no intention of letting anyone drag me to these places."
Olmert was reacting to reports that he will run for prime minister, and that he intends to ask journalist-turned-politician Yair Lapid to join him. There was also a rumor that he said he would only return to politics if and when if he is exonerated in the corruption trial regarding the Holyland real estate project.
Some in the liberal left pinned hopes on Olmert rejoining politics after he was acquitted this week of the more serious charges against him in another trial. Olmert's acquittal aroused some hope in the liberal left since Lapid and Labor's Shelly Yechimovich do not appear to have the political support that would enable them to oust Likud and Binyamin Netanyahu from power.
Olmert spoke at an INSS conference on the Second Lebanon War, which broke out six years ago. He laid the blame for the outbreak of the war on unnamed IDF officers. "The Minister of Defense operated in a balanced, patient and certainly impressive way in order to prevent the possibility of an abduction imbroglio in the north," he said.
"The war broke out because of the command level's failure to implement the instructions of the political tier not to enter that corner [of an abduction], because of a realization that this would oblige us to respond."