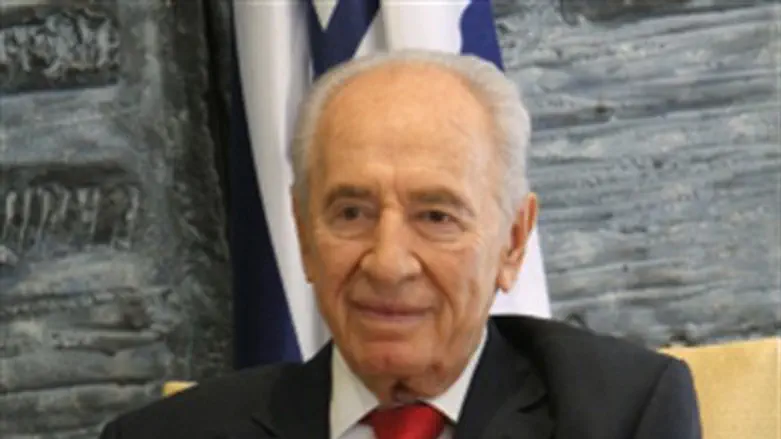 President Shimon Peres
Israel news photo: Flash 90
The heads of the Pikuach Nefesh rabbinical organization, which represents 350 rabbis in Israel, sent President Shimon Peres a letter on Wednesday in which they condemned his remarks that the Jewish settlement enterprise in Judea and Samaria (Yehuda and Shomron) threatens Israel's Jewish majority.
On Tuesday, Peres said, "Israeli settlement in territories that are densely populated with Arab population, which followed their attacks on us, can lead to a threatening demographic change. That is, a risk to the Jewish majority in Israel."
He added, "A Jewish state without a Jewish majority will probably not remain Jewish. National independence in a democratic country requires maintaining a Jewish majority, and national identity in a multicultural world requires maintaining the spiritual uniqueness of the Jewish people."
In their letter, the rabbis asked Peres, "Is the disaster you caused Israel with the miserable Oslo Accords not enough that you continue to make dangerous statements and declare in advance, even without negotiations, that you want to get rid of parts of the Land of Israel?
"You should have long ago bowed your head and asked for forgiveness from the thousands of victims of the 'peace' processes, from all the residents of the South, the communities in Judea and Samaria and around Jerusalem, for the murders of thousands of Jews following the agreements you led, and following the withdrawal from Gaza that you pushed for and initiated, causing hundreds of thousands of Jews to live daily in constant fear," the rabbis wrote.
"But instead, you're bringing up hallucinatory ideas once again and repeating obsolete false theories," they added. "You once called for a new Middle East and for ending the occupation and the day after we learned that Israeli control of Judea and Samaria is entirely legal, you use demographic intimidation."
The rabbis further noted that the danger to Israel is not in the demographic statistics and records "but rather from giving of land to Israel's enemies, and bringing them closer to the borders of the Jewish settlements – something you did with your own hands.
"Only a determined and proud Jewish rule, which encourages Jewish birthrate and firmly maintains our borders while strengthening attachment to Jewish settlement throughout the Holy Land, will strengthen the safety and security of Israel in its land and bring real peace," they concluded.
In Israel, the role of President is a purely ceremonial one and not a political one, but Peres has been Israel's most political president to date, and has been accused of seeing himself as a de-facto foreign minister once again, as he was during the late Yitzchak Rabin's term of office when he engineered the disastrous Oslo Accords.
Peres has reportedly met in secret with Palestinian Authority Chairman Mahmoud Abbas in the hopes of advancing his personal agenda of restarting peace negotiations.
His comments were criticized by nationalists. MK Uri Ariel (National Union), head of the State Control Committee, responded to the speech by saying, "Unfortunately, the president has again missed the mark with an unfortunate statement that is hurtful to large sectors of the public."
"This is a controversial statement from the 'new Middle East' school of thought, and it is harmful first and foremost to the institution of the presidency, which is dedicated to preserving national unity," added Ariel.
The head of the Yesha council, Danny Dayan, said Peres was wrong in his remarks, noting that "The only danger that faces Israel as a Jewish state today is the loss of faith in our historic right to our land."