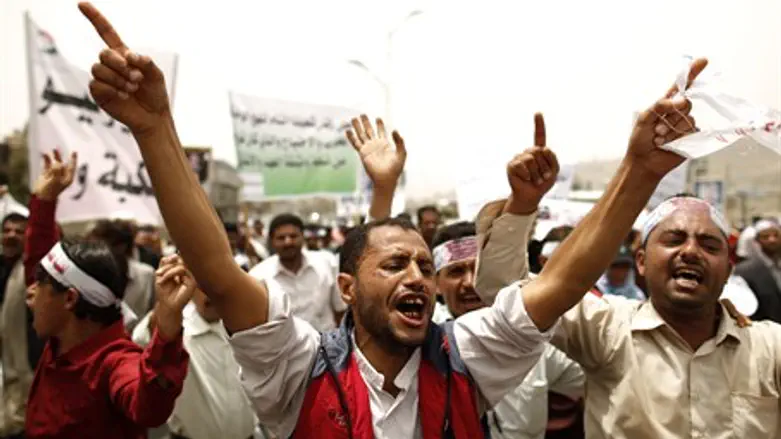 Yemen protest
Reuters
A suicide bomber blew himself up at the entrance of a police academy in the Yemeni capital of Sanaa on Wednesday, killing 20 people and wounding dozens more, a security official told AFP.
"The suicide bomber blew himself up at the police academy in Sanaa and killed at least 20 people and wounded dozens," the official said, speaking on condition of anonymity.
He added that most of the casualties were police cadets who were leaving the academy for the weekend.
There was no immediate claim of responsibility for the attack.
Wednesday's blast is the second deadliest in the capital since President Abdrabuh Mansur Hadi took power in February and pledged to destroy Al-Qaeda's presence in the country.
The police academy is located near Sabeen Square where a Yemeni soldier, packing powerful explosives under his uniform, blew himself up in the middle of an army battalion on May 21.
Al-Qaeda claimed responsibility for the attack that killed more than 100 troops and wounded over 300, noted AFP.
On June 23, Yemeni troops seized Al-Qaeda's last bastion in the country's southern and eastern provinces after a month-long offensive, which aimed at ousting the jihadists from territory they had controlled for about a year.
Since their defeat, Al-Qaeda has pledged to seek revenge.
Last month, an Al-Qaeda suicide bomber killed Yemeni army's southern commander, General Salem Ali Qoton, who led the offensive against the militants.
They have also left mines in the cities and towns they fled that have so far claimed the lives of dozens.