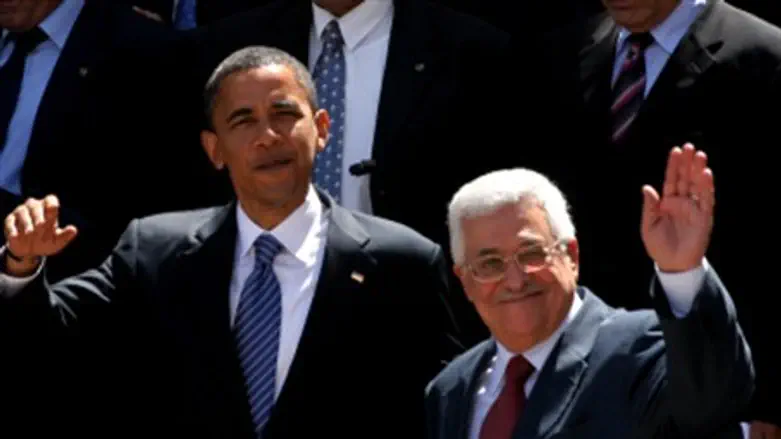 Obama and Abbas
Israel news photo: Flash 90
The Obama administration on Tuesday criticized an Israeli panel that issued a report that Jewish communities in Judea and Samaria do not violate international law, but did not contradict its findings that they do not violate the Fourth Geneva Convention.
"We do not accept the legitimacy of continued Israeli settlement activity and we oppose any effort to legalize settlement outposts," State Department spokesman Patrick Ventrell told reporters whena sked about the Levy committee report. The United States has always held that Israeli settlement of Judea and Samaria is an obstacle to peace. 
The State Department is "concerned about it, obviously," Ventrell added.
US secretary of state Hillary Clinton will visit Israel later this month, and her team may raise the report's conclusions with officials in Jerusalem.
Former Israeli Supreme Court Justice Edmond Levy who headed the committee wrote in the 89-page report released late Sunday, "Israel does not meet the criteria of 'military occupation' as defined under international law" in the Judea and Samaria.
The report, which calls for the legalization of all Jewish communities in what Jerusalem terms the 'disputed territories,' recommends allowing those who built homes on privately owned property to pay compensation to the alleged owners in lieu of eviction.
However, some nationalist activists have suggested Prime Minister Binyamin Netanyahu press the IDF Civil Authority to issue seizure orders for all land where Jewish communities sit, rendering them state lands.
The findings of the Levy committee are subject to the review and approval of Israeli Attorney General Yehuda Weinstein.
Prime Minister Binyamin Netanyahu established the Levy committee in January after Jewish leaders in Judea and Samaria called for a response to the highly controversial 2005 Sasson Report on illegal outposts.
The Sasson report – commissioned by then-Prime Minister Ariel Sharon and released by former State Attorney's Criminal Division head Talia Sasson on 8 March 2005 – was considered highly subjective and left-oriented as soon as it was publicized. Those suspicions were validated when Sasson ran on the ultra-left Meretz party Knesset list several years after writing the report..
In addition to land classification problems, the Sasson report is strongly criticized for its conclusion that Jewish neighborhoods founded before the 6 December 2004 regulation government authorization to build in Judea and Samaria was required were "unauthorized."
Prior to the 2004 directive, all construction in Judea and Samaria fell under Government Resolution 150 from 2 August 1996, which stipulated that the Defense Minister had the authority to authorize new communities.
The vast majority of communities the Sasson Report defined as "unauthorized" had been given the green light by the Defense Ministry prior to 6 December 2004.
Officials close to Netanyahu say the history of controversy surrounding the report, as well as the fact that it was a lone opinion rather than a consensus of experts, required it be reconsidered.