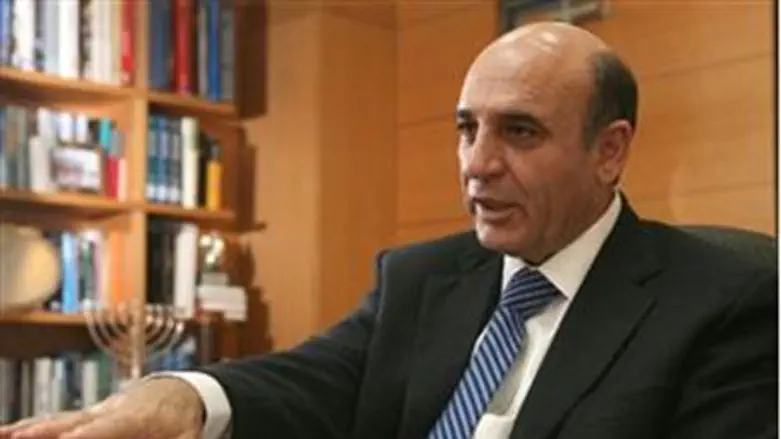 Shaul Mofaz
Israel news photo: Flash90
Kadima leader Shaul Mofaz told Radio Kol Israel on Monday that he believes the Netanyahu government can successfully draft a bill to replace the contorverisal Tal Law by the weekend.
The Tal Law allows Hareidi men to defer military and national service indefinately in favor of full-time Torah study.
Minister of Strategic Affairs Moshe Ya'alon and Kadima MK Yohanan Plesner – who chaired the government's failed committee tasked with drafting the replacement law – began drafting a bill Sunday that would "equalize the burden of IDF service."
Speaking to Channel 2 news, Mofaz said that progress on the bill is "headed in the right direction," but warned that "until there's an agreement, there is no agreement."
Mofaz, who said that haredi Jews being drafted by the age of 22 at the latest was non-negotiable, told Channel 10 that IDF service "is part of our DNA as Jews."
Mofaz, however, reiterated his previous threats that Kadima would leave the coalition if the effort fails.
Plesner and Ya'alon plan to work around the clock for the next two days in order to complete the bill by Wednesday. It would then be approved at Sunday's cabinet meeting, thereby allowing it to be brought to a vote before the Knesset's summer recess begins on July 25.
"We are facing a historic opportunity to heal what has been an open wound for Israeli society," Ya'alon said before his meeting with Plesner. "We have to use our brains and avoid exacerbating societal rifts. I hope we will succeed in this mission."
Likud officials are reportedly pleased that Kadima has expressed a willingness to compromise on IDF service for Israeli Arabs, allowing national service instead. In turn, Kadima officials indicated Likud officials were willing to make concessions on the age when haredim will no longer be able to defer IDF service.
"There has been progress but there are still many question marks, which I hope within two or three days will become exclamation marks," Plesner said during a joint press conference with Ya'alon.
Netanyahu and Kadima approved Ya'alon and Plesner ad hoc working group on Sunday after the Likud faction agreed unanimously to endorse all of the recommendations of Plesner's defunct Draft Law committee – except for its points on Israeli Arabs.
The Likud faction said it saw no reason to delay the application of the "service for all" principle to the Israeli Arab population.
Plesner recommended that the application of a service mandate for Israel's Arabs be implemented gradually.