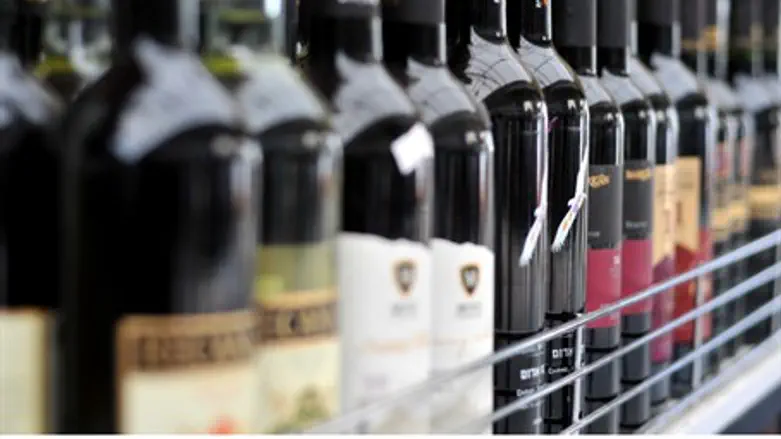 Wine (illustrative)
Israel news photo: Flash 90
A new bill to block all advertising of alcohol is aimed at preventing alcohol abuse, says Likud MK Danny Danon.
The World Likud chairman, a member of the Knesset Committee on the Rights of the Child, submitted the proposed bill on Monday. Danon told reporters that if passed, the law will "save many lives and halt the plague of drunkenness among youth."
Passage will activate the measure after a 30 days waiting period.
Under the proposed law, all advertising of alcoholic beverages would be prohibited on billboards, bus signs and other public notice areas. Advertising in other areas, such as in markets, would be curtailed with limits placed on the size and placement of signs. Advertisements with colorful cartoon characters – which are aimed primarily at youth – would be prohibited altogether.
A recent spate of shocking, brutal murders in Israel committed by teens that shook residents of the Jewish State is largely behind the move. Questions are being asked about what has created such a tragic transformation, and the search for answers has extended from homes to universities and NGOs as well as the Knesset.
"More young people drink alcohol than use other drugs or smoke tobacco," according to Professor Richard Isralowitz, director of the Ben-Gurion University Regional Alcohol and Drug Abuse Resources (RADAR) Center and a member of BGU's Department of Social Work.
"Underage drinking is costing Israel millions in financial losses stemming from violent behavior, criminal activity and traffic fatalities that threaten the well-being of Israel and its people," Isralowitz said. He was quoted in a recent BGU article on research he conducted together with RADAR Center colleague Dr. Alexander Reznik into the issue of alcohol abuse as a factor in violent youth behavior in Israel.