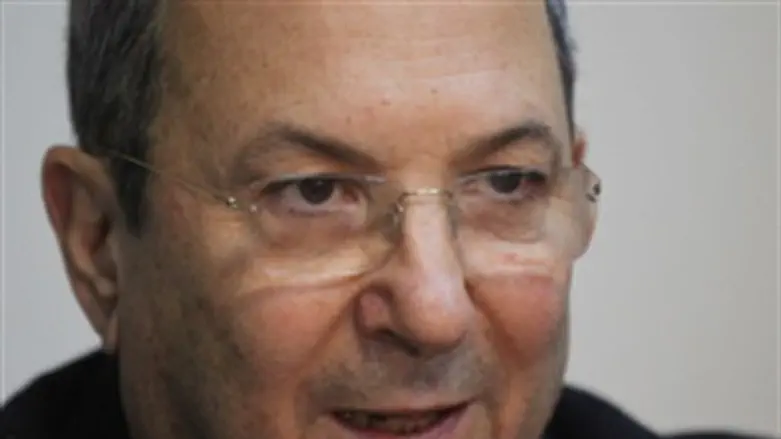 Ehud Barak (file)
Israel news photo: Flash 90
Defense Minister Ehud Barak tried to mediate on Tuesday evening between Prime Minister Binyamin Netanyahu and Kadima chairman Shaul Mofaz, Army Radio reported. Also taking part in the mediation was Natan Eshel, Netanyahu's former bureau chief who resigned amid a harassment scandal.
Sources involved in the negotiations told Army Radio that the biggest challenge faced by Barak and Eshel is to restore the trust between Netanyahu and Mofaz, which was damaged after Netanyahu decided to disband the Plesner Committee which was charged with formulating a new draft law. Earlier on Tuesday, Mofaz angrily rejected a planned meeting with Netanyahu.
Mofaz and MK Yohanan Plesner are expected to announce the committee's conclusions on Wednesday, despite its disbanding by the Prime Minister.
Plesner's committee had fallen apart after several key members resigned from it within a period of several days. On Sunday, Attorney Yaakov Weinroth announced that he is quitting the committee, where he represented Shas and United Torah Judaism. Weinroth said the committee had acted irresponsibly by opting to solve a delicate problem through "forceful" measures.
Last week, Yisrael Beytenu, a major partner in the governing coalition, announced it is quitting the Plesner Committee, because the committee has said it will not demand punishment of Arab citizens who shirk from service, recommending sanctions only on hareidi service evaders.
The Jewish Home party, headed by Minister Daniel Hershkowitz, also announced it would leave the committee.
Earlier on Tuesday, Opposition leader Shelly Yechimovich (Labor) announced she is submitting a bill to dissolve the Knesset and initiate early elections.
Joined by Labor MK Issac Herzog, the bill is identical to one Yechimovich submitted prior to Kadima entering the coalition in May.
Meanwhile, several Kadima members called on their chairman to resign from the coalition. MK Shlomo Molla announced Tuesday he is leaving the coalition and will begin voting against it in Knesset votes. He was joined by MK Nino Abesadze.