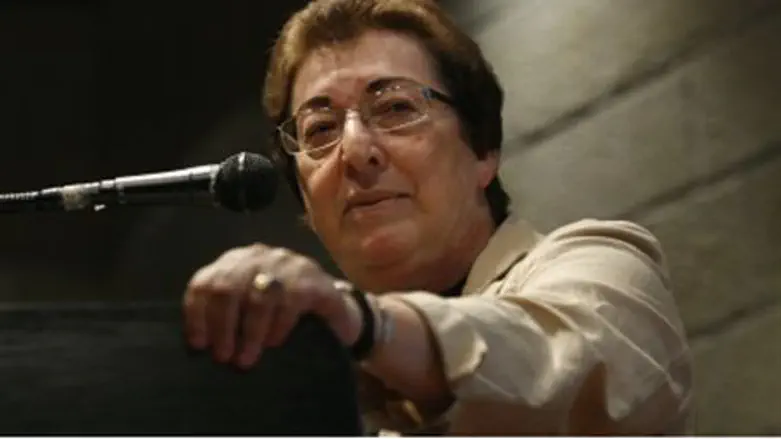 NIF Chairperson Naomi Chazan
Flash 90
Naomi Chazan has ended a tumultuous term as president of New Israel Fund (NIF), which leads the ultra-leftist camp in Israel through the use of neo-Marxist tactics and public advocacy "rights groups," and the promotion of "politically correct" Newspeak. The Fund has disbursed well over $200 million in its 23 years of existence.
In her farewell speech at the New Israel Fund's 2012 Guardian of Democracy Dinner in San Francisco last week, Chazan used Newspeak to describe the current state of events in Israel as a "tug-of-war" between the "neo-nationalist" camp in Israel and the "democratic revival" of "civil society."
Chazan made it clear that in her view, "democracy" does not refer to majority rule and that she sees Israel's democratically elected government as ruling only "on the formal level."
"When you ask Israelis today what is the best form of government in the world – it is democracy," she said. "But when you ask Israelis what is democracy, over 50% say 'majority rule.' That should get you worried. Very much so. The democratic recession has led to a neo-nationalist upsurge in Israel, which is hegemonic. It rules on the formal level."
"Neo-nationalist Israel is doing very well at the formal level," she added, noting that the coalition has 94 MKs at present.
Chazan said: "There is a neo-nationalist crackdown now. It deals with settlements and women: women's faces, women's voices, women's status, women's prayers... It deals with incitement against foreigners and against minorities within Israel. And this neo-nationalist crackdown is trying to silence the media. It is very difficult. Just this past weekend, protesters were harassed on social change issues, and they were carrying banners – 'we want democracy.'"
She then explained what true democracy means, in her eyes. "The struggle against racism is a struggle for democracy. The struggle against xenophobia is a struggle for democracy. The struggle against gender discrimination is a struggle for democracy. The struggle against homophobia is a struggle for democracy."
Chazan was the focus of an aggressive nationalist campaign in 2010 by grassroots Zionist group Im Tirtzu, which blamed the NIF for assisting the Goldstone Commission in libeling Israel over the Cast Lead counter-terror operation.
Chazan is replaced as NIF president by Brian Lurie, who was CEO of the San Francisco Jewish Federation for 17 years and has been involved in advancing Arab-Jewish relations.