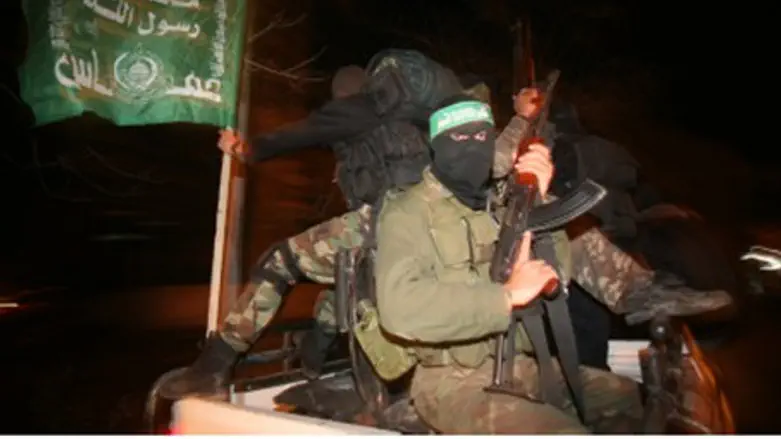 Terrorists
Flash 90
The Al Qassam Brigades, Hamas' military wing, denounced on Sunday the sentence handed down to the group's former senior commander, Ibrahim Hamad.
Earlier on Sunday, an Israeli military court sentenced Hamad to 54 life terms in prison. Hamad was the Judea and Samaria head of Hamas' terrorist operations from 2001 to 2006, and coordinated attacks in which 46 people were murdered and more than 400 were wounded.

Hamad, 47, was released for prison in 2001 and immediately returned to terrorism. He was arrested again five years later after a lengthy manhunt.
In a statement to the Hamas-affiliated Al-Qassam website following the sentence, the Al Qassam brigades said "that the Zionist sentence will remain dead letter and will not be conducted, and that the prisoners will enjoy their freedom in spite of the occupier."
The group added that it does not recognize "such judgments by the occupier," stressing that "Israeli arrogance is only an attempt to break the will of the resistance and discourage our people from his duty in the jihad against the usurper occupier."
Meir Indor, the head of the Almagor organization for victims of terrorism, said Sunday that he is not reassured by the 54 life sentences handed down to Hamad.
"The life sentences given to Ibrahim Hamad are temporary sentences, in effect only until the next kidnapping or the one after that," Indor said.