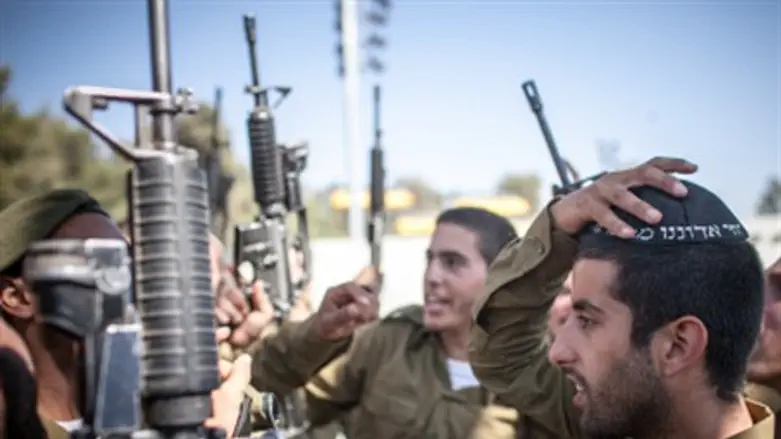 Hareidi soldiers
Israel news photo: Flash 90
Prime Minister Binyamin Netanyahu met Sunday with the leaders of the Shas party and discussed the current initiative to clamp down on hareidim who avoid enlistment to the military.
According to Channel 2 television news, the hareidi Sephardic party's leaders did not object to "light" personal sanctions against hareidim who avoid enlistment, and said they would not quit the coalition over such sanctions.
However, Shas Chairman Eli Yishai denied the reports and said that Shas is vigorously opposed to personal sanctions.
Attorney Yaakov Weinrot announced Sunday that he is quitting the Plesner Committee, where he represented Shas and United Torah Judaism. Weinrot said the committee had acted irresponsibly by opting to solve a delicate problem through "forceful" measures.
The committee, headed by Kadima MK Yohanan Plesner, is supposed to find a formula for enlisting more hareidim into the IDF. However, two major coalition partners quit the committee last week because it decided not to deal with the refusal of Israeli Arabs to enlist into national service, focusing only on hareidim instead.