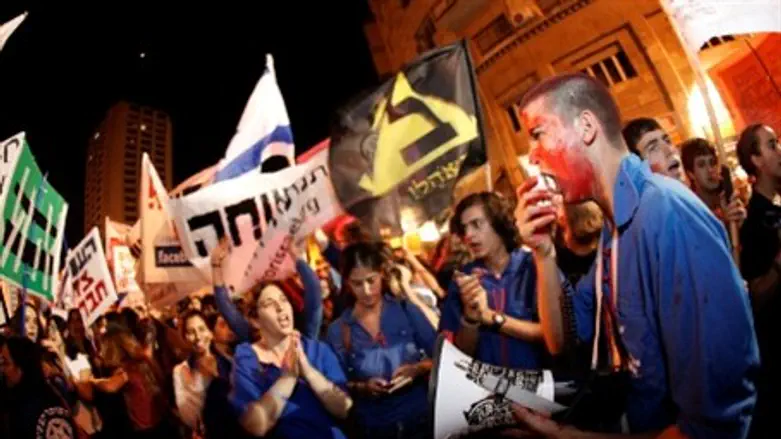 'Social justice' rally Saturday night
Israel news photo: Flash 90
"Social Justice" protests took place in Tel Aviv and Jerusalem on Saturday night. The Tel Aviv protest, about 5,000 strong, began early Saturday night and started out peacefully, but a group of protesters later began blocking streets. That group broke off from the main protest, which consisted of demonstrators marching to the Tel Aviv Museum, where several speakers were set to address the crowd.
Last Saturday night, demonstrators blocked roads and threw rocks at the windows of banks and other buildings in central Tel Aviv. Police responded with force, injuring several protesters. Police on Saturday night were noticeably more reticent in their reaction to the road closing, witnesses said, but police officials said they would not be intimidated and would act with force if necessary.
Among the speakers at the Tel Aviv protest were Ze'ev Even-Chen, whose daughter was killed in the 2010 Carmel Forest Fire. He called on protesters not to act violently. "Don't fight with the police," he said. "Remain united, continue to act as you are acting today." He added that he had nothing against police, but he had been very upset at the arrest of protest leader Dafni Leef last week.
Also speaking at the protest was Ben Gurion University Professor Yossi Yonah, who has been active in the protest movement since its beginnings last year. "We are angry because a year has passed and nothing has changed. The government continues to prefer the wealthy instead of preferring social justice. Most of the public is behind us. We do not believe in violence, and oppose it. Our strength is not in power, but in our morality," he said.
Protesters in Jerusalem, meanwhile, blocked several routes of the light rail, as they did last Saturday night. Police attempted to control the crowd and ensure movement for the trains. Several protesters were reported to have banged on the doors of trains. Protesters and speakers were to assemble in Zion Square for a rally.