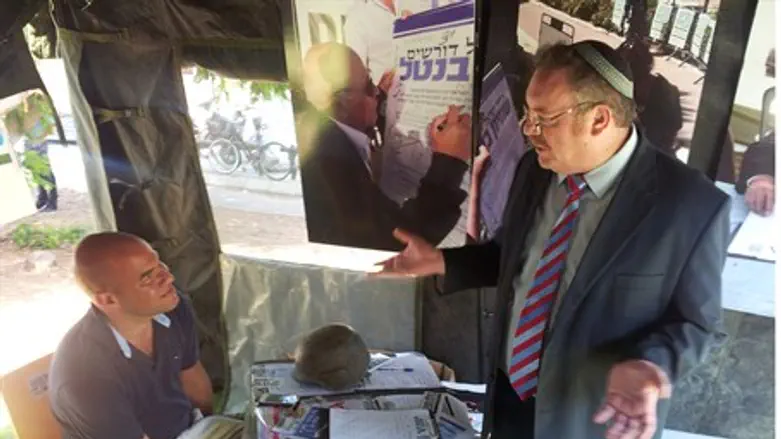 Hershkowitz at suckers tent
Yoni Kempinski
Science and Technology Minister Daniel Hershkowitz, chairman of the Jewish Home party, visited the 'suckers tent' in Tel Aviv on Thursday. During his visit, Hershkowitz said that his party is committed to implementing equal service for all sectors of Israeli society.
The 'suckers tent' is made up of individuals who were opposed to extending the Tal Law, which regulated the exemption of hareidi soldiers from enlisting in the IDF, and attempted a gradual increase of hareidi army service.
The Tal Law was annulled by the Supreme Court after the judges, under former Court President Dorit Beinisch, struck it down as unconstitutional. A committee, headed by MK Yohanan Plesner (Kadima), has been charged with coming up with a new formula for conscripting hareidim into the military.
The Plesner Committee clarified Thursday that while it favors the principle of "service for all," it will not recommend slapping any sanctions on Arabs who refuse to enlist, but will recommend punishing hareidim who evade service. In response, Hershkowitz's party said it will leave the committee. Foreign Minister Avigdor Lieberman's Yisrael Beytenu party said it would do the same and advance its own bill stipulating equal service for all citizens.
Hershkowitz emphasized in a conversation with Arutz Sheva that studying Torah is important for hareidim, but that serving the country is equally important.
"My message here is very clear: There is no contradiction whatsoever between studying Torah, which is the most important value in Jewish life, and serving the army and building the country," he said. "In fact, the Torah commands that once you enter the land, you have to start working. You have to start planting, you have to fight."
He reiterated that "fighting for the very existence of the Jewish people in the land of Israel – is a mitzvah. It's not an optional thing. So there is no contradiction whatsoever and that's why my great-grandfather, as a rabbi, asked to be drafted to the army at the age of 80 when the State of Israel was established. That's why my father and my mother fought during the War of Independence. That's why I served in the army, as did all my sons. My youngest one was just drafted yesterday."
Hershkowitz told the occupants of the 'suckers tent' that the Jewish Home party "will not let the Plesner Committee do a sloppy job on the issue of hareidi enlistment. The Jewish Home will not take part in sweeping the issue under the table. I demand equal burden for everyone. "
He added, "I'm speaking here on behalf of the public which carries the major burden. The percentage of people from the national-religious sector who serve in combat units is the highest. The national-religious public is proof that you can combine the Torah world with serving the army and the State, and what we demand of ourselves we demand from others."