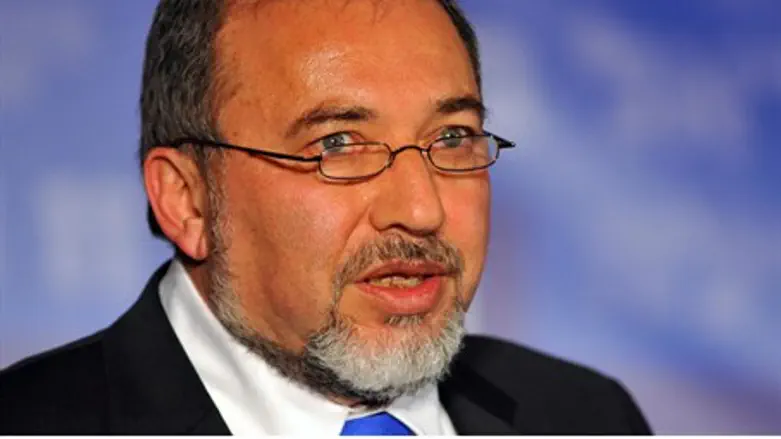 Foreign Minister Lieberman
Israel news photo: Flash 90
Yisrael Beytenu, a major partner in the governing coalition, has announced it is quitting its membership in the Plesner Committee that is hashing out a new formula for enlistment of hareidim to the military and national service.
The reason is that the committee has said it will not demand punishment of Arab citizens who shirk from service, recommending sanctions only on hareidi service evaders.
Yisrael Beytenu said in a statement that it believes all citizens must serve equally at age 18, including Arabs. "Yisrael Beitenu believes in the principle established in the Scroll of Independence, according to which all Israelis are equal in rights and duties, regardless of religion, race or sex, and this must be honored," the party insisted.
The Plesner Committee – also known as the Committee for Advancement of Equality in Service – clarified Thursday that while it favors the principle of "service for all," it will not recommend slapping any sanctions on Arabs who refuse to enlist, but will recommend punishing hareidim who evade service.
Yisrael Beytenu, which is headed by Foreign Minister Avigdor Lieberman, said it would advance its own bill, stipulating equal service for all citizens, independently of the Plesner Committee.
The Jewish Home party also announced Thursday it would leave the committee.
Minister Daniel Hershkowitz, chairman of the party, spoke with the Prime Minister Thursday and told him that he sees no justification for the Jewish Home's participation in the Plesner Committee, in view of its attitude toward Arab enlistment.
"Whoever receives from the state must also contribute to it – and without Arab contribution there is no equality in sharing the burden," said Hershkowitz.