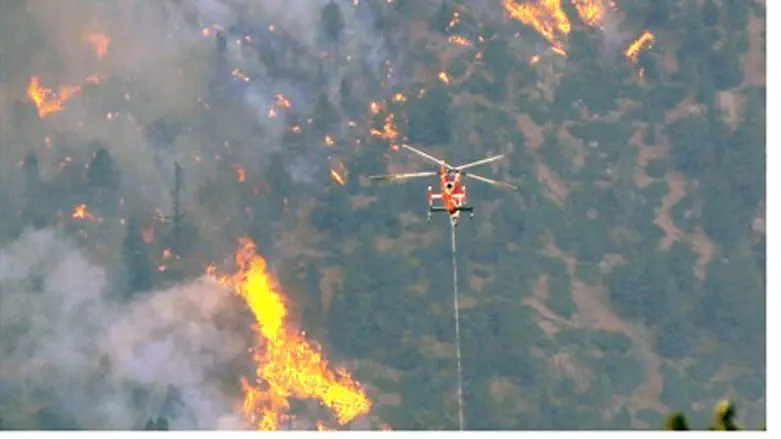 Firefighting helicopter in Waldo Canyon, Colo
Reuters
Firefighters worked through the night Wednesday to defend the US Air Force Academy from a raging wildfire in Waldo Canyon at Colorado Springs, Colorado, that has forced tens of thousands out of their homes.
About 10 acres along the southwest boundary of the campus were affected, but no one was injured and none of the structures were damaged.
About 550 cadets were relocated off the academy grounds on Wednesday, but reporters were told that an incoming class of more than 1,000 was still scheduled to arrive Thursday.
Army officials said more than 120 soldiers built firebreaks around the academy at Fort Carson, using at least 10 heavy bulldozers, four excavators, 13 military transportation and support vehicles and a commercial road graders.
Bright orange flames shot into the sky for a second night, while more than 30,000 sought shelter after quitting neighborhoods of Colorado's second-largest city.
Fires also were ignited elsewhere around the state, with firefighters battling blazes near Boulder as well. But Colorado state officials refused to give an estimate as to how many homes had been destroyed, and what the total damage had been, insisting residents had a right to the information first.
FBI spokesman Dave Joly added that federal investigators were looking into the possibility that the fires might have been deliberately set, or resulted from criminal activity. He gave no specific details.
Elsewhere around the Midwest, at least 56 buildings were torched in central Utah as a wildfire continues to burn out of control. Officials have not yet made an estimate about the amount of damage resulting from the blaze that has leveled some 72 square miles. In one evacuated area, a woman was found dead on Tuesday.
Wildfires meanwhile have burned away more than 200 square miles, consuming dozens of homes in what Governor Brian Schweitzer called "one of the most dangerous fires in the history of Montana." Firefighters on Wednesday ordered additional evacuations when the blaze jumped a perimeter line after having already burned more than 60 homes in Dahl and forced some 600 people out of the area.
Officials said Wednesday that a wildfire in the Bridger-Teton National Forest has now spread across 2,000 acres – nearly 19 square miles – and ordered campers out of the area.
By way of comparison, the total area under the control of the State of Israel, including the Golan Heights and all of Judea and Samaria (Yehuda and Shomron), is only 10,733 square miles (27,700 square kilometers). But the area of the state that existed under Israel's control prior to the 1967 Six Day War comprises just 8,019 square miles (20,770 square kilometers), of which two percent is water.