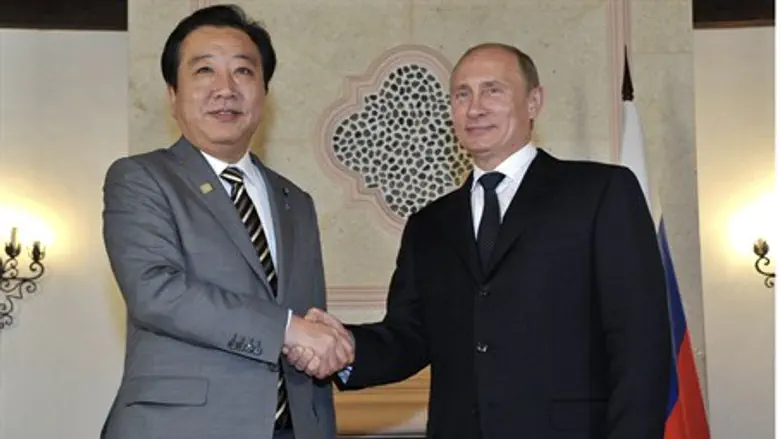 Noda with Putin
Reuters
Japan's Prime Minister Yoshihiko Noda may, like his predecessors, go down in history as a short-lived Japanese leader. He, however, will go out with a bang and not a whimper. Noda is taking decisions that are far from popular - even at the risk of splitting his own Democratic Party (DPJ).
One very controversial measure is thereactivation of some of Japan's nuclear reactors. For the Japanese government this is a fact of life, because without reactivating some nuclear power stations, the country will face acute power shortages during the summer.
The Japanese government has apparently learned from France that the best way to finesse nuclear power is to simultaneously weigh in on behalf of renewable energy sources.
On Monday, the government announced an effective subsidy for renewable energy by approving incentive pricing. That requires Japanese utilities to buy electricity generated from solar, wind and geothermal sources at high prices.
Solar energy will be $.53 per kilowatt hour, double the price in Germany. This has created a sort of gold rush in Japan, as companies and banks, as well as foreign firms, scramble to cash in.
Kyocera made news with its plans for a 70 megawatt solar farm, only to be outgunned by Toshiba which plans to invest $379 million for a 100 megawatt solar farm.  The Toshiba project will symbolically go up in Fukushima District, the Ground Zero of Japan's nuclear disaster.
The nuclear decision pales in comparison with Noda's decision to go full speed ahead with tax reform, even with the realization that this could split his party. Under the proposal, designed to get a grip on government finances, the sales tax will double to 10% by 2015.
Noda's rival within the DPJ, Ichiro Ozawa, claims that the tax hike represents a betrayal of the party voters, as the party manifesto had promised the opposite. Secondly, he claims, the Japanese economy is too fragile and the increased sales tax will depress the economy.
The Prime Minister is counting on support from the Liberal Democratic Party, but this support carries a catch. The LDP will support the Prime Minister on the sales-tax and then will attempt to bring down the government, forcing a snap election after the DPJ has fractured.