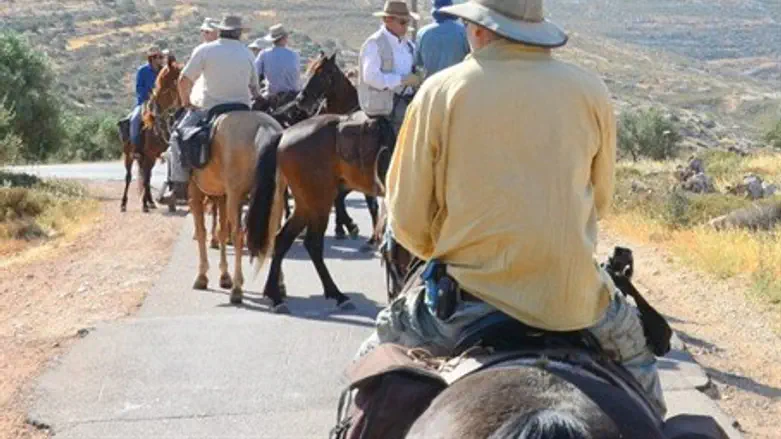 Horse riding trip in the Shomron
Shomron Regional Council
A unique trip recently took place in Shomron (Samaria). Dozens of horse riders from all over Israel came to the region in special vehicles to which horse-drawn carriages were attached, in order to travel in the scenic area. For many of the riders it was the first visit to the region.
The riders enjoyed the fresh Samarian mountain air, the spectacular views of the region and the many streams of water that flow in the region at this time of the year.
The riders are members of the Israeli Trail Riders club, which numbers more than 600 horse owners.
Ofer Segev, director of the Israeli Trail Riders club, is a resident of Tel Aviv who established the club last year with Uri Peleg from Moshav Ramot, which is located two miles north east of the Kinneret.
"We decided to establish a club that will bring together all the riders in Israel, and it turns out that there are thousands," said Segev, adding, "The horse takes us to places that you can only reach on a horse – not with a tractor and not with a motorcycle and not with a jeep. Not even on foot."
He said that the trip to the Shomron offers him a chance to see great views and see the stories of the Bible come alive. "I see places that I can say, as a resident of Tel Aviv, I would never have reached if it weren't for the horse," he emphasized.
Segev added that the members of the club enjoyed the ride in the Shomron and are planning more trips in the future.
"We see in Samaria a great place for hikes and in two weeks we will come back for a trip to Itamar," he said. "It's only the beginning and we expect to hold many more rides in other routes in the area."