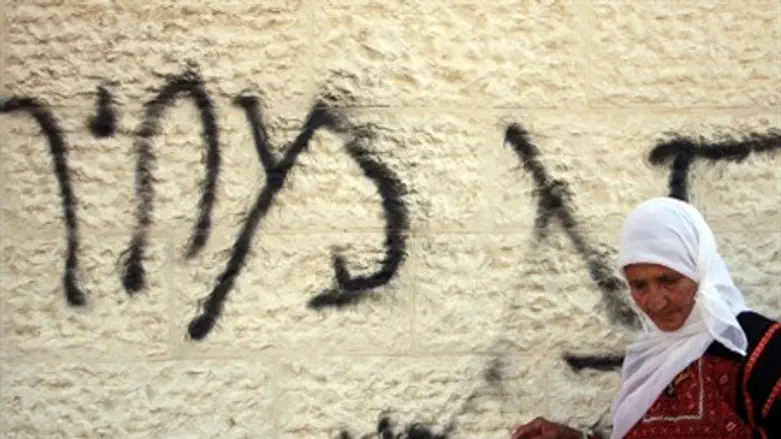 'Price tag' in Hebrew (file)
Israel news photo: Flash 90
Residents of the Palestinian Authority town of Jabba, southeast of Ramallah, reported Tuesday that a town mosque had been damaged in an apparent arson attack. Graffiti at the scene said "The war has started," and "You will pay the price."

Also among the slogans was "Givat HaUlpana," a reference to the Ulpana neighborhood of Beit El, which faces demolition after a PA Arab man claimed that he, and not the PA man who sold the neighborhood to Jews, was the rightful owner of the land.

Locals in Jabba said they believe the vandalism was part of a "price tag" attack. "Price tag" vandals target PA Arabs and the IDF in response to PA attacks and the demolition of Israeli homes.

Residents expressed surprised that their town was targeted. Jabba is a quiet town, and its residents are not involved in the frequent rock attacks on Israeli motorists in the region, they said.

Prime Minister Binyamin Netanyahu condemned the attack. "This was the work of intolerant, irresponsible lawbreakers," he declared. "We will act quickly in order to bring them to justice."

Yesha (Judea and Samaria) Council head Danny Dayan condemned the attack as well.

Rabbis and other local leaders in Beit El have called on supporters of the Ulpana neighborhood to avoid violence and damage to property during their protests against the planned expulsion.