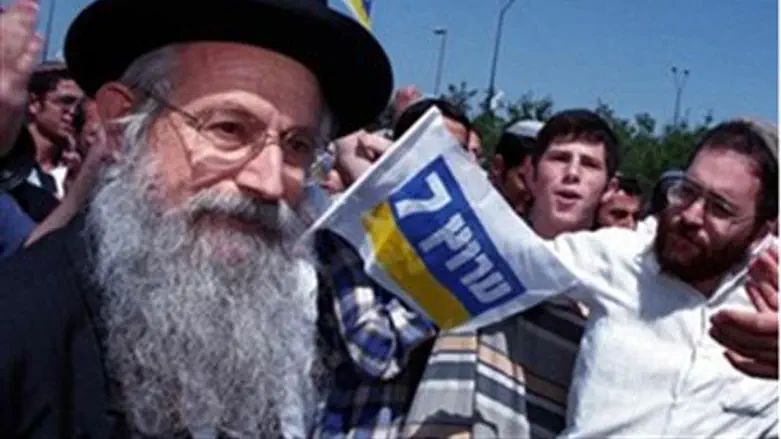 Rabbi Zalman Melamed
Israel news photo: Flash 90
Rabbi Zalman Melamed, head of the Beit El yeshiva, spoke to students Monday night about the government's plans to demolish the Ulpana neighborhood. Police have been preparing to forcibly evict dozens of families from the area, and many local youth have been preparing to fight back.

Rabbi Melamed told his students that the struggle to settle the land of Israel is important, but added, "Sometimes, we must understand that there are battles that cannot be won."

"Therefore," he continued, "it would be best to use this terrible low point for the betterment of all of Judea and Samaria."

Rabbi Melamed called to avoid violence of any kind even if Beit El leaders do not succeed in reaching an agreement with the government. He and other local leaders are trying to reach an agreement according to which new homes would be built in Beit El and across the Judea and Samaria region following the demolition in Ulpana.

Earlier Monday Rabbi Melamed met with government officials and explained that an agreement to build elsewhere would not end the distress over the fate of the Ulpana neighborhood. "They are taking one of my children, and promising me ten in his place," he told Minister of Environmental Protection Gilad Erdan, Government Secretary Tzvi Hauser, and Major-General Eitan Dangot.

"It's all well and good, but I am worried about the child they took," he said.

During the meeting, Rabbi Melamed was told that a group of local youth was attempting to damage Erdan's car in protest of the government's demolition plans. He exited the building and asked the youth to stop, telling them, "These are my guests." The young protesters stopped, and held a quiet demonstration in the area instead.