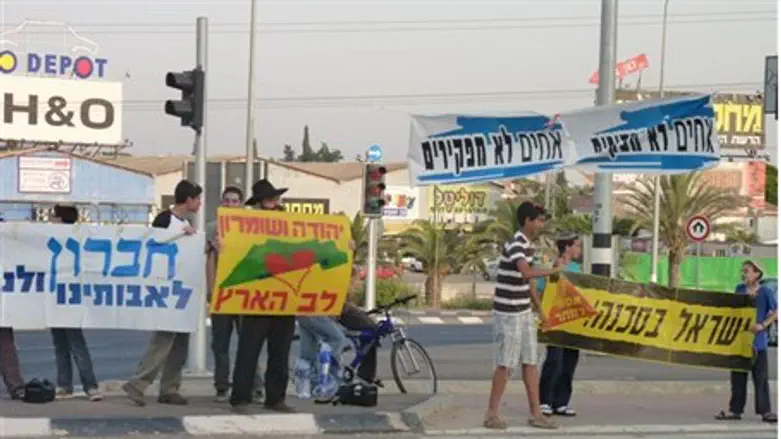 Protest for Ulpana residents
Kalanit Dim
Hundreds of activists arrived on Thursday evening at 15 intersections across the country and held solidarity protests with the residents of the Ulpana neighborhood of Beit El.
The protests took place at intersections in Rehovot, Modi'in and Netanya, among others.
The activists who protested at the Bilu junction, near Rehovot, told Arutz Sheva, "Today we were supported by Ethiopians, French, Russian, IDF fighters who were returning to their homes after 21 days, bikers, truckers and, in short, everybody. One of the drivers almost fell out the window of his car when he leaned out and gave us a roar of encouragement. Some passersby asked to join our e-mail mailing list."
Protesters in other parts of Israel also said the day had been successful and evoked public sympathy. Additional protests are planned in the coming days.
Meanwhile, the Komemiyut movement, along with the Shomron and Binyamin residents' councils, launched a campaign on Thursday, which includes publishing ads against the planned demolition of the Ulpana neighborhood in newspapers, on billboards, near roads and in intersections.
On Wednesday, Brigadier General (res.) Rav Avichai Ronsky, the former Chief Military Rabbi, issued a call through Arutz Sheva for Israelis to come to Beit El and join the struggle against the destruction of 30 homes in the Ulpana neighborhood.
credit: קוממיות, ועדי המתיישבים וכלנית דים
credit: קוממיות, ועדי המתיישבים וכלנית דים
credit: קוממיות, ועדי המתיישבים וכלנית דים
credit: קוממיות, ועדי המתיישבים וכלנית דים
credit: קוממיות, ועדי המתיישבים וכלנית דים
credit: קוממיות, ועדי המתיישבים וכלנית דים
credit: קוממיות, ועדי המתיישבים וכלנית דים
credit: קוממיות, ועדי המתיישבים וכלנית דים
credit: קוממיות, ועדי המתיישבים וכלנית דים
credit: קוממיות, ועדי המתיישבים וכלנית דים
credit: קוממיות, ועדי המתיישבים וכלנית דים
credit: קוממיות, ועדי המתיישבים וכלנית דים
credit: קוממיות, ועדי המתיישבים וכלנית דים