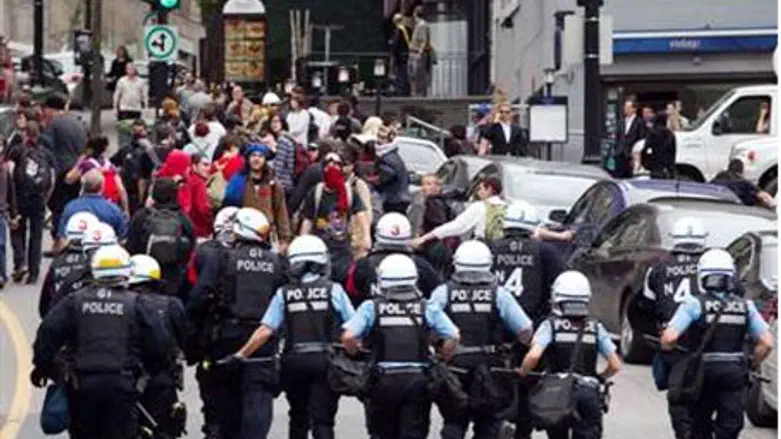 Montreal Police chase protester
Reuters
Protests in Quebec against alleged police violence have featured Nazi salutes, drawing harsh condemnation from Jewish leaders.  
Student demonstrators have called the police "SS" officers and fascists, comparing them with Nazis. B'nai Brith Canada said that although the Nazi salutes and shouts were not intended at Jews, their use is wrong.
"We condemn, in the strongest of terms, this inexcusable display of hate by Quebec student protesters that has outraged the Jewish community," B'nai Brith executive director CEO Frank Dimant said in the statement.
"The actions of these protesters, whether for the purposes of deriding Montreal police or drawing attention to their cause, defile the memory of the Holocaust and remind us just how quickly anti-Semitism and the manifestations of hate can venture their way into our public discourse."
Dimant said that the head of Quebec's student federation called to apologize and said that efforts will be made to halt the use of the Nazi salute.
Unlike in Germany and Austria, the Nazi salute is not illegal in Canada. One Quebec student was arrested in Berlin last year for using the Nazi salute there.
The Center for Israel and Jewish Affairs, quoted by the Montreal Gazette, said that the protesters' use of the Nazi salute represented ignorance and not necessarily hatred.
"These are clearly not support for Nazism or intended as anti-Semitic displays," said spokesman David Ouellette. "It's much more a function of the ignorance about history and the over-heated rhetoric that has plagued the current crisis in Quebec."