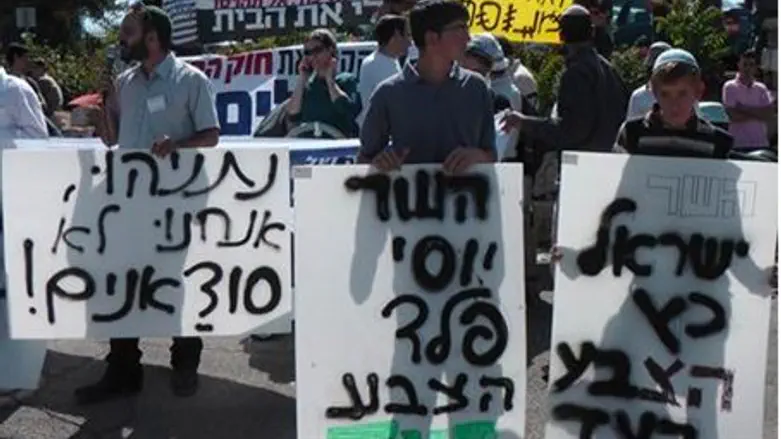 Anti-demolition protesters
Arutz Sheva
Hundreds of families have moved to Beit El's Ulpana neighborhood, local council head Moshe Rosenbaum told Arutz Sheva. "They are sleeping there, in order to prevent [demolition] with their bodies, in order to say that there is no way it will happen," he said.

He preferred not to specify the "red lines" that protesters will not cross. Earlier in the day MK Yaakov "Ketzaleh" Katz said demonstrators will not harm soldiers, but will give "everything they can" to prevent the planned forcible eviction.

Protesters are not comforted by Prime Minister Binyamin Netanyahu's promise to build 10 new homes in Beit El for each home that will be destroyed, Rosenbaum said. While preparations for the destruction are underway, "I don't know of any real move to start fulfilling the promise," he reported. "I don't believe he wants to build."

The sense that there is no real intention to build is increasing frustration and tension among those who oppose the demolition, he warned.

Deputy Legal Advisor to Government Mike Balas said Tuesday that Netanyahu's promise to build is unfeasible. Beit El does not have enough land approved for Israeli construction to allow for 300 homes to be built, he argued.

The Ulpana neighborhood houses 30 families. It was built on land bought from a Palestinian Authority Arab.

A second PA man filed suit with the help of the far-left group Peace Now claiming the land in question was actually his, making the sale void. State prosecutors agreed to demolish the neighborhood in response to the man's claims.

Residents say the plaintiff has no proof of his claims. They have lamented the fact that they were not given a chance to share their side of the story in court.