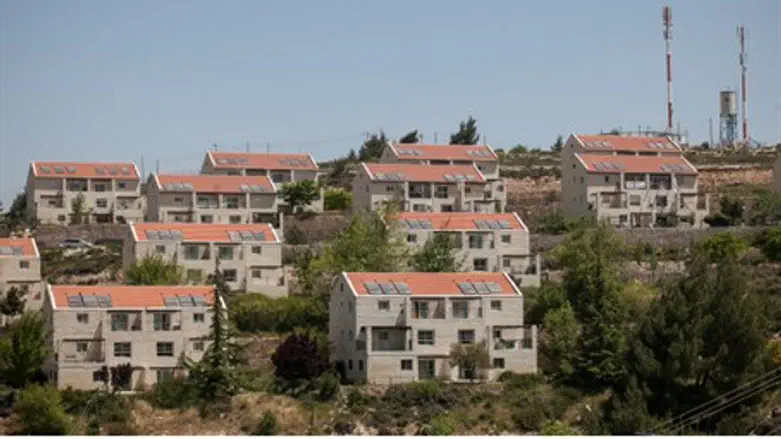 Ulpana neighborhood
Israel news photo: Flash 90
The United States condemned Israel on Wednesday, after Prime Minister Binyamin Netanyahu announced that 300 new homes will be built in Beit El.
"We're very clear that continued Israeli settlement activity in the West Bank undermines peace efforts and contradicts Israeli commitments and obligations, including the 2003 road map," U.S. State Department spokesman Mark Toner said, according to the Chinese Xinhua news agency.
Toner told reporters, "Our position on settlements remains unchanged. We do not accept the legitimacy of continued Israeli settlement activity."
He added, "You know, we want to see these parties -- both parties, rather, refrain from these kinds of actions and to get back into negotiations."
Netanyahu promised to expand construction in Beit El, in a special statement he issued Wednesday, regarding the impending demolition of the Ulpana neighborhood.
"This is not a simple or easy day," said Netanyahu. "Relocating the houses is certainly not an action that the government is eager to carry out, but the court made a decision and we respect the court system's decisions. At the same time, the community of Beit El will be widened. The 30 families from the Ulpana Neighborhood will remain in Beit El and they will be joined by 300 new families."
Netanyahu's statement was made shortly after the Knesset rejected a bill aimed at circumventing a court order to destroy five residential units in the Ulpana neighborhood.
The vote was 22 for the bill and 69 against. Absent from the vote were all of the ministers and deputy ministers who vowed to test Prime Minister Binyamin Netanyahu's ultimatum to vote against the bill or be fired.
The extreme leftist group Peace Now was not happy at all with the commitment by Netanyahu to build 300 more homes in Beit El, and was quick to start an online petition calling on him to rescind what they called "a collective punishment" that he has meted out against Israel's citizens.