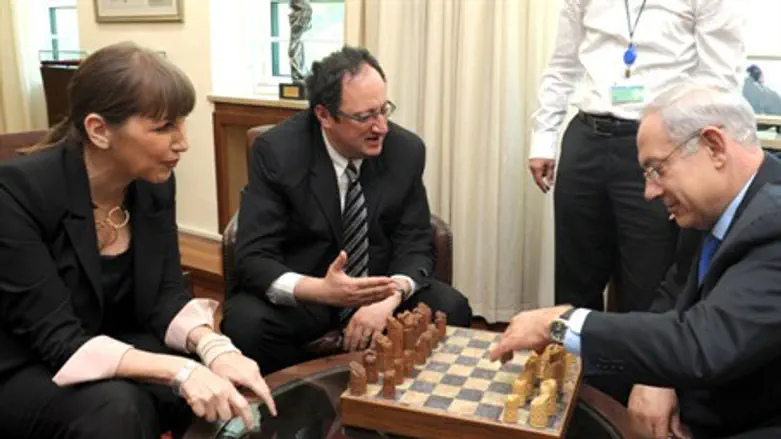 Gelfand with Netanyahu and Livnat
Flash 90
Israel's Boris Gelfand, who finished in second place in the final round of the World Chess Championship last week, returned to Israel over the weekend.
Gelfand lost in the tie-breaker round to Viswanathan Anand of India, who maintains his title as world champion.
Upon his return to Israel, Gelfand met with Prime Minister Binyamin Netanyahu and Culture and Sport Minister Limor Livnat. Netanyahu is an amateur chess player and an enthusiast of the game, and he keenly followed Gelfand during the tournament.
During the meeting, Netanyahu told Gelfand that his participation in the world championship made a great contribution to the perception of the game of chess in Israel.
"You've already raised chess to international heights," Netanyahu said. "There is great interest in it and we're even going to support it with money. You did a great service to the State of Israel and for the sport of chess."
Gelfand thanked Netanyahu for his support during the tournament and said that he hopes that chess will continue to be promoted by the Israeli government. He expressed his hope that "a million children will learn how to play chess", saying that playing chess helps a person become "more successful in life."
Minister Livnat promised that her office, along with the Prime Minister's Office, will budget a million shekels for 2012-2013 for the purpose of establishing dozens of chess clubs throughout the country, particularly in the periphery areas.
Foreign Minister Avigdor Lieberman praised Gelfand for his achievements last week, saying, "Despite the loss at the end of a series of close and exciting games, Boris Gelfand brought great honor to the State of Israel."