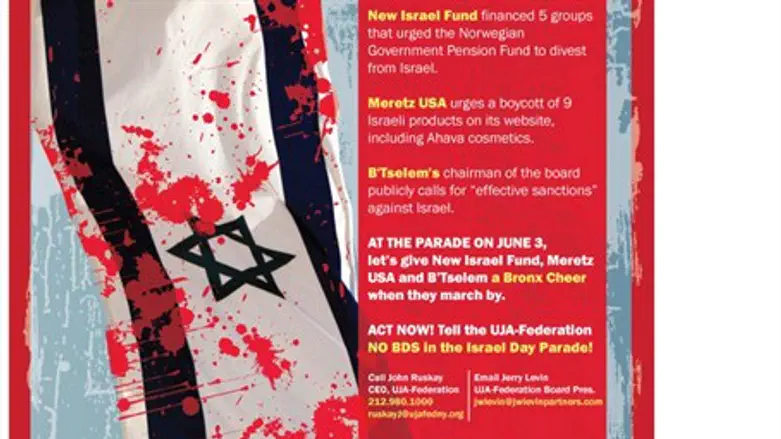 Parade Flier
Arutz Sheva
This Sunday, come rain or shine, supporters of the Jewish state will march down Fifth Avenue in Manhattan in the annual Israel Day Parade, the largest demonstration of support for the State of Israel.
Some 35,000 marchers from 200 organizations will head up the avenue waving Israeli flags and taking pride in the miraculous achievements of the tiny country, only 64 years old, that lies in the hearts and minds of Jews worldwide.
Yet, while the predominant atmosphere of the parade is one marked by ardent support, overwhelming exuberance and a sense of internal appreciation, Israel's detractors are attempting to hijack the occasion and reset the tone of support for the Jewish state. Arutz Sheva has posted several oped articles on the issue.
Organizations supporting the Boycotts, Divestments and Sanctions movement against Israel are not only going to be in attendance, but have received permission from the UJA-Federation and Jewish Community Relations Council (JCRC) to march in the parade, masquerading as "pro-Israel" and claiming to uphold the country's most fundamental interests.
The New Israel Fund (NIF), one such organization, has been the benefactor of hundreds of non-governmental organizations (NGOs) that are keenly committed to de-legitimizing and weakening Israel, economically and strategically, at home and abroad.
Meretz USA urges a boycott of 9 Israeli products on its website, including Ahava cosmetics, while B'Tselems' chairman of the board publicly calls for "effective sanctions," aimed, primarily, at ostracizing Jewish communities in Judea and Samaria.
While such groups pride themselves on being "pro-Israel," their efforts do nothing more than undermine the ideals the parade seeks to uphold.
Following the procession down the middle of New York City, a concert will be held in Central Park - the Carl Freyer Tribute and Dr. Manfred Lehmann Memorial event - which will include an appearance by MK Danny Danon, Chairman of the World Likud and Deputy Speaker of the Knesset.
The concert is set to reaffirm that there is no place for organizations that promote BDS in the most esteemed demonstration of support for the Jewish homeland. It will further voice the unwavering principle that that Jerusalem, along with the entire land of Israel, will forever remain undivided.
It is sponsored by various Jewish organizations including Aruz 7, The Zionist Organization of America (ZOA) and The Young Israel. The moving spirit behind the concert are longtime proactive Zionists, Dr. Joseph Frager and Dr. Paul and Drora Brody.