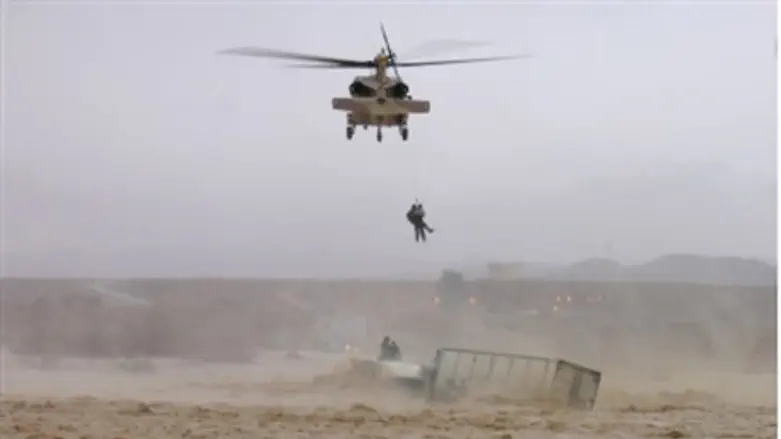 IAF rescue (file)
Israel news photo: Flash 90
The state will pay NIS 2M in compensation to the family of Alaa Aghbariya, who fell to his death from an IAF helicopter during a botched rescue operation three years ago.
Aghbariya, 24, and two other men, all from the Arab village of Musheirfeh in Wadi Ara, had entered a mine field near Sdeh Trumot in northern Israel. A mine exploded and Aghbariya was severely injured in the explosion.
A rescue team and a helicopter from the army's elite 669 rescue unit were called in and a failed attempt was made to extricate Aghbariya. He dropped from a height of about 20 meters and eventually was pronounced dead in the hospital.
The botched rescue was videotaped and then screened on Israeli television, giving rise to accusations from Arabs that the rescue had been sloppily handled because the person being rescued was an Arab. The rescue team turned out to have been made up of soldiers who were still in the training phase.
Doubts were raised as to the reason for the three men's presence in the mine field. The surviving men claimed they had gone on an excursion and were hunting porcupines, and that they were not aware that they had entered a minefield. Police suspected that they had, in fact, been interested in stealing the mines and extricating the explosive material they contain. The matter was not pursued by Israel media and apparently, the investigation into the suspicion was also dropped by police.