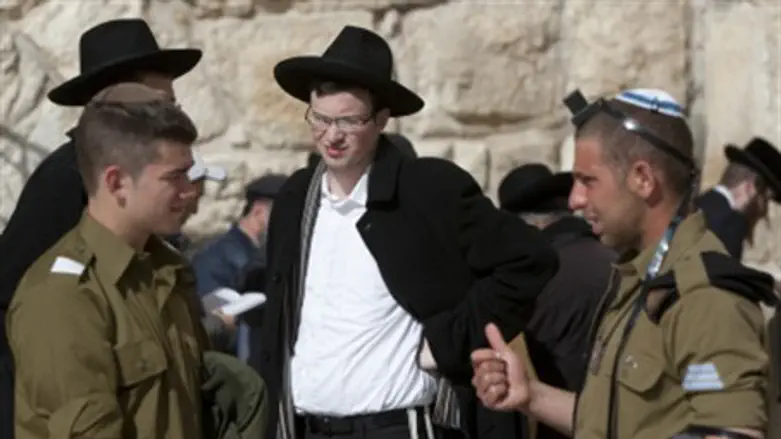 Soldiers, hareidim
Israel news photo: Flash 90
The IDF has a shortage of thousands of soldiers and sees hareidim as excellent soldiers who can help fill the manpower gap, Brig. Gen. Gadi Agmon, Head of Planning Brigade and Manpower Administration, told the official committee established to set new parameters for enlistment to military and civilian national service.
The committee, headed by MK Yohanan Plesner of Kadima, convened for the first time Monday, for a marathon 10 hour session. It is charged with finding a replacement to the Tal Law that regualted the enlistment of hareidim until it was declared unconstitutional by the High Court.
Brig. Gen. Agmon said that at present, there are about 7,500 hareidi 18-year-olds who are eligible for enlistment. In 2011, 1,282 hareidim from the ages of 18 to 26 enlisted.
The general was followed by Sar-Shalom Jerbi, Director General of the National Service Administration. Jerbi told the committee that between 2007 and the present day, 1,806 hareidim and 2,399 minority members had volunteered for civilian national service.
Prof. Eugene Kandel, Head of the National Economic Council, said that the present situation is the result of government policy that has existed for 60 years, and that norms that have taken root over such a long period cannot be expected to change one or two years. He said that there has been improvement in the hareidi sector's participation in employment and that ways should be found to strengthen these trends and not weaken them.