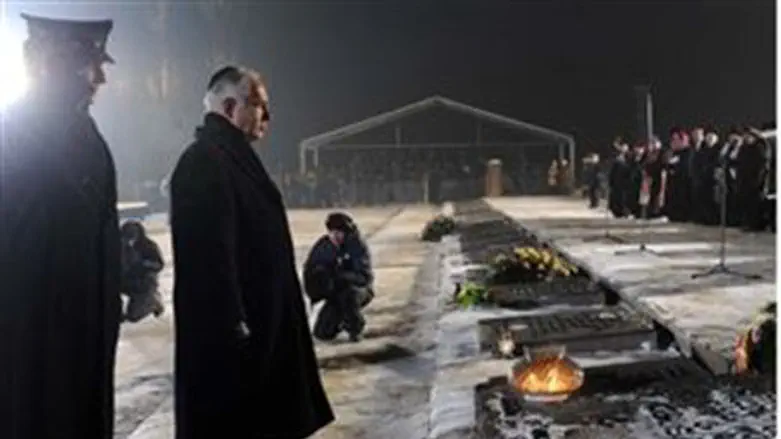 Remembering the Holocaust
Israel news photo: Flash 90
Klaas Carel Faber, a Dutch native who fled Germany after being convicted of war crimes, died Saturday at the age of 90. His wife told the Dutch news site de Nieuwe Pers that he passed away on Thursday, the Associated Press reported.
Faber, who served in the Nazi SS unit known as Silver Fir, was originally sentenced to death by a Dutch court in 1947. While awaiting execution he escaped from Breda prison in the western Netherlands in 1952 with six other former SS men.
Faber was listed second on the Simon Wiesenthal Center's list of most-wanted Nazi criminals.
Dutch prosecutors have said he was convicted for killings at three different Dutch locations in 1944-1945, including six at the Westerbork transit camp, where thousands of Dutch Jews, including Anne Frank, were held before being sent to labor camps or death camps in eastern Europe, the Associated Press (AP) reported.
He began working for the car maker Audi based in Ingolstadt, while his sentence was commuted to life in prison after the Netherlands abolished the death penalty, the AFP reported.
In 1957, a German court dismissed all charges against him for lack of evidence and Bavarian authorities said the Netherlands must produce new evidence before Faber could be arrested again.
The Netherlands secured a European arrest warrant for Faber in November 2010 and sought his return to Dutch custody but Bavarian officials refused to execute the warrant.
Faber's German citizenship enabled him to escape, as Germany refuses to extradite its own citizens.