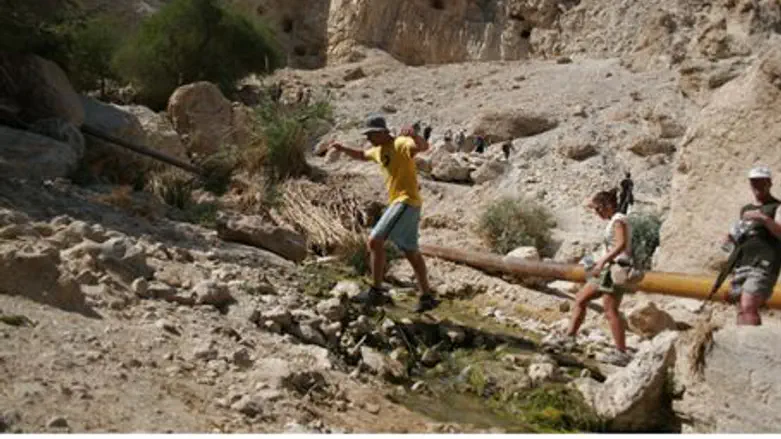 Hikers climb cliffs in Judean Desert (illus)
Israel news photo: Flash 90
Official diplomatic relations between Turkey and Israel may be down in the dumps, but atop the Himalayas, two young men formed a bond that may last forever.
A 24-year-old Israeli climber abandoned the dream of his lifetime in order to fulfill the mitzvah of hatzoloh nefashot – saving a life – close to the summit of Mount Everest.
He had just 300 meters (1,000 feet) to go.
But Nadav Ben Yehuda didn't think twice when a fellow Turkish climber became injured on the way up the world's tallest mountain.
Had Ben Yehuda ignored his fellow climber, he would have become the youngest Israeli to reach the summit of Mount Everest, at the crest of the Himalayas.
But the young climber, who himself suffered severe frostbite and other injuries, turned back to rescue a Turkish climber who had gotten hurt. It is not yet clear whether Ben Yehuda's fingers can be saved. 
The two were rescued by helicopter and transferred to a hospital in Katmandu.
He told Voice of Israel during a radio interview from his hospital bed that he also assisted a British climber, and one from the Republic of Georgia. Bodies were scattered along the climbing route, he noted.
Four people died last Saturday out of the 208 climbers who scrambled to reach the summit of the 8,848-meter mountain last weekend, according to Nepal's mountaineering official Gyanendra Shrestha.
Climbers usually wait for good weather to break during climbing season, he said, and at least 200 more are expected to try again this weekend. There is little officials can do about it, he added.