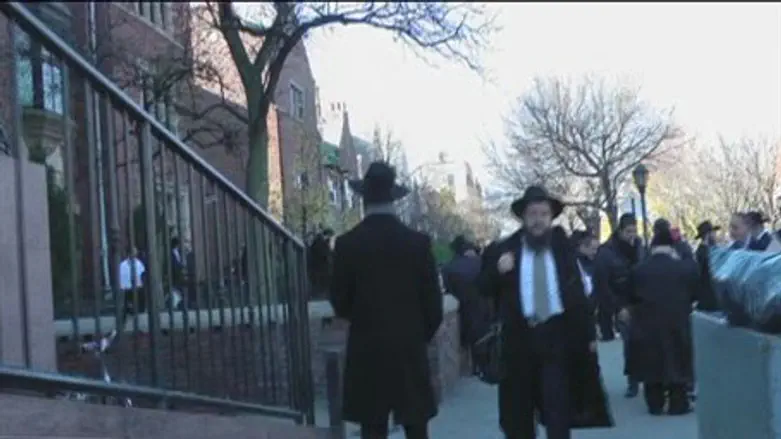 Chabad emissaries in Crown Heights neighborho
Yoni Kempinski
The highest-end Hassidic art gallery in the world opens its doors Thursday with an exhibition on Empire Boulevard in the Crown Heights neighborhood of Brooklyn, New York.
A reception and exhibition of one of today's greatest contemporary Judaic artists, Itshak Holtz, promises to draw a crowd to the gallery. Born in Poland, Holtz immigrated to Jerusalem before World War II, where he studied drawing and art. He later continued his studies in New York.
The 86-year-old artist's portrayals of traditional Jewish life, as well as the charm of Jerusalem's winding alleyways, have become iconic and some of the most coveted pieces in the Jewish art world.
One might wonder that such treasures could be found on Empire Boulevard, where the remnant of a graceful era is only now beginning to become re-gentrified. 
Looking like a trendy Soho shop and featuring paintings that begin at a low of $3,000, the Betzalel Gallery offers works that range all the way up to $175,000. But the gallery itself is sandwiched in between an aging laundromat and a bland, pre-war brownstone apartment building, quietly protecting the treasures hidden within.
The analogy is not lost on those who know the neighborhood, and who understand the philosophy of the Lubavitcher Rebbe who for decades has guided its Jewish community, Rabbi Menachem Mendel Schneerson, of righteous memory.
"The Rebbe once compared the uncovered, undiscovered inner beauty of a person, the soul of a Jew, to a sparkling diamond," commented Rabbi Shea Hecht, chairman of the board at the National Committee for the Furtherance of Jewish Education (NCFJE), also based in Crown Heights.  "In this world, he said, there are millions of such Jewish treasures."
So too, noted curator Shmuel Pultman, are the treasures within the Betzalel Gallery, among which are the masters of Hassidic art. Pultman should know: among his own favorites are some of the masters of the general art world, Rembrandt, Goya, Velazquez and Sargent.  Since opening his first art gallery in the Brooklyn neighborhood of Boro Park 20 years ago, Pultman has watched the rise of Hassidic art among the best of the world.