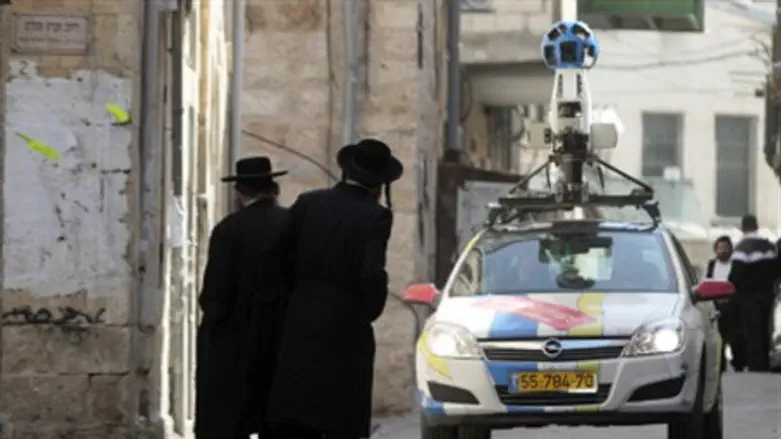 Street View in Meah Shearim
Israel news photo: Flash 90
The IDF has been closely monitoring Google's Street View Project, placing tracking devices on the Street View cars to ensure they do not go where they are not allowed to, the military's Bamahane magazine reveals.
Israeli security authorities including the IDF Military Intelligence Formation agreed to allow Google to operate the Street View Project in Israel after Google recognized that Israel's status as a country under terrorist threat justifies limiting the internet colossus's freedom to take photos, the magazine reported.
Google's special vehicles, which take panoramic photographs that allow Google Earth users to zoom in on street scenes all over the world, began driving around Tel Aviv, Jerusalem and Haifa last month, after negotiations with Military Intelligence that lasted a year. The National Security Council established a special department to negotiate with Google in Israel and make sure it is operating as agreed.
The IDF's condition for allowing the Google project to be carried out is that none of the photos reveal classified information or locations of security facilities.
In accordance with the agreement between Google and Israeli security services, the company submits all of its vehicles' planned routes for advance approval. The vehicles may not leave those routes and are expressly forbidden from entering off-limits areas including roads that surround military bases.
Military Intelligence informs IDF units in advance of the filming days, to make sure no vehicles bearing potentially classified characteristics are in the area. MI also makes sure no classified training exercises are held near the routes on those days.