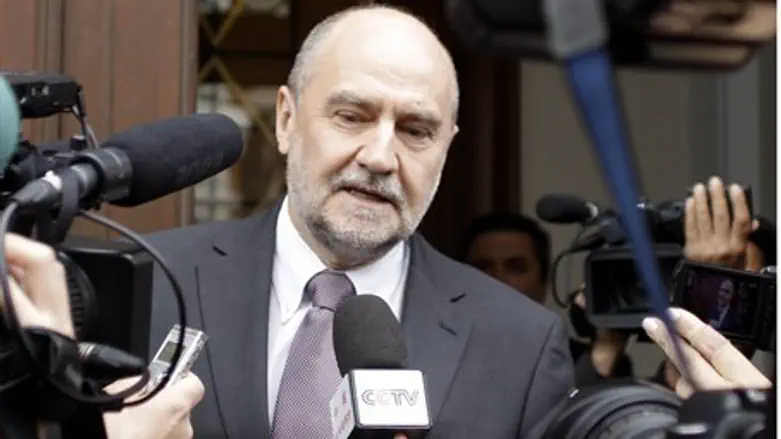 Hermann Nackerts
Reuters
International Atomic Energy Agency officials on Monday pressed Iran for greater cooperation in their first meeting since a failed visit to Tehran in February.
"We are here to continue our dialogue with Iran in a positive spirit," the UN nuclear watchdog's chief inspector Hermann Nackaerts told reporters as he headed into two days of talks with Iran's envoy, Ali Asghar Soltanieh.
"It is important now that we can engage on the substance of these issues and that Iran let us have access to people, documents, information and sites," he added outside Iran's embassy in Vienna.
In particular, Nackaerts wants Iran to address concerns expressed in an extensive IAEA report in November that at least until 2003, and possibly since, that Tehran has engaged in nuclear activities of a decidedly military nature.
He also wants access to the Parchin military base near Tehran where the IAEA report – which cited foreign intelligence, its own sources, and Iranian information – said Iran had conducted high-explosives tests in a specially designed chamber.
Two previous trips to Tehran in January and February by the IAEA resulted in Iran denying Nackaerts and his team access to suspected nuclear sites.
Iran, as a signatory to the Nuclear Non-Proliferation Treaty, is obligated to allow the UN watchdog access to its site for inspections to ensure it is complying with the treaty.
IAEA chief Yukiya Amano said recently that access to Parchin was a "priority" and said in March that "activities" spotted by satellite there "makes us believe that going there sooner is better than later."
In March, Amano charged Iran with a systemic attempt to cover up nuclear activity of a military nature saying, "Iran is not telling us everything."
Western nations have accused Iran of removing evidence from Parchin and other sites. Soltanieh claimed in March that any allegations of "sanitization" of the site were "a childish (and) ridiculous story made out of nothing."
The new push for access by the IAEA comes under intense Western scrutiny ahead of next week's talks between the P5+1 and Iran in Baghdad next week.
The Bagdad talks come five weeks after an initial round of talks between Tehran the P5+1 – the five permanent members or the UN Security Council plus Germany – in Istanbul.
Israeli officials charge the talks are a waste of time saying Iran is using them to buy more time for its bid for nuclear weapons, which Jerusalem has said is unacceptable.
Analysts believe the likelihood of an Israeli strike on Iran's nuclear facilities in the coming months will dramatically increase should the Baghdad talks fail.