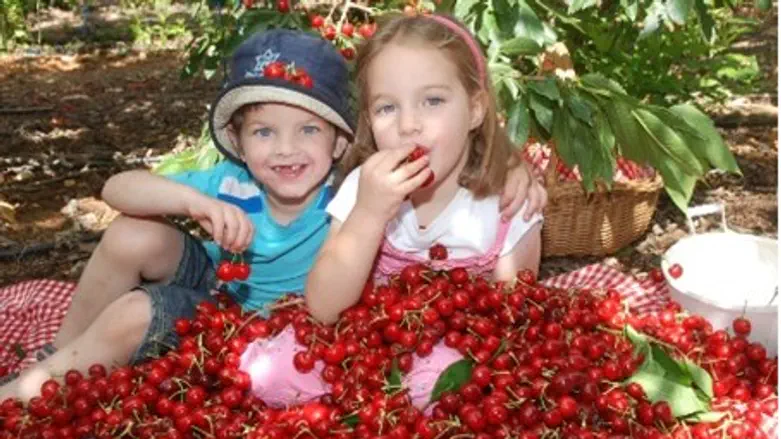 Bounty year for cherries in Israel
Israel news photo courtesy Yoram Bitan, Lerner PR
Israel enjoys a bounty cherry season thanks to a frigid winter that helped trees "sleep" before waking up in the spring to yield approximately 6,500 tons.
The crop is so huge that farmers had to take the rare step of thinning the fruit before it ripened in order to allow each cherry to grow and to avoid overweight tree limbs crashing to the ground.
It also is "good news-bad news." After the early season price of approximately 50 shekels a kilogram – more than $6 a pound – the cost of the early summer crop already has dropped in half and will likely reach lower than 10 shekels a kilo, or slightly more than $1 a pound.
"When the price for bulk cherries reaches four shekels a kilo to the farmer, we stop picking became it is not worth it," Gil Hecht, manager of the orchards in the southern Hevron Hill community of Beit Yatir, told Arutz Sheva Monday. He said the bounty harvest is not necessarily a record, and that Yatir's expected yield of 60 tons this year is more than average but less than a previous high of 100 tons.
Gush Etzion, where kibbutzim grow cherries on nearly 250 acres, expects to pick 800 tons. Regional tourist officials are gearing up for the annual Cherry Festival in June, when thousands of people are expected to visit and "pick your own."
The festival features a farmers market, food stalls, and workshops for children, concerts and riding on a tractor.
"Cherry Festival is an excellent opportunity to connect with agriculture and nature," says Gush Etzion Mayor Davidi Pearl.
Gush Etzion, located on a range of mountains stretching from the Galilee to the Hevron Hills, is home to hiking routes, springs, a reindeer farm, a winery and dairies.