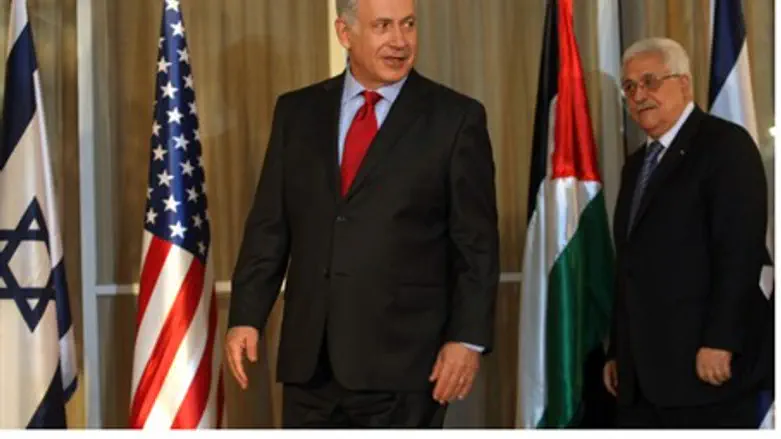 PM Binyamin Netanyahu, PA Chairman Abbas
Israel news photo: Flash 90
Attorney Yitzchak Molcho, Prime Minister Binyamin Netanyahu's special envoy, met on Saturday evening in Ramallah with Palestinian Authority Chairman Mahmoud Abbas, the Prime Minister's Office announced.
During the meeting, Molcho handed Abbas a letter from the Israeli government, according to the PMO.
A joint Israel-PA statement produced after the meeting said that "Israel and the PA are committed to achieving peace and the parties hope that the exchange of letters between Abbas and Prime Minister Netanyahu will contribute to this."
According to reports, the letter Molcho gave to Abbas contains Netanyahu's response to a letter that was handed to Netanyahu by a PA delegation on April 17.
In the letter, Abbas demanded that Israel accept the indefensible pre-1967 lines as borders for a future PA state, halt all construction in the 'disputed territories,' and release all Arab terrorists from its prisons.
In a speech in Cairo two weeks before the letter was given to Netanyahu, Abbas revealed some of its contents, saying that the letter says, "Because of you, the Palestinian Authority is no longer an authority. You took all its powers and liabilities. We have nothing left, is that acceptable to you or not?"
Earlier on Saturday evening, before Molcho and Abbas' meeting, a member of the PLO Executive Committee, Wasel Abu Yusuf, said that the PA does not expect that Netanyahu's response letter will include new content or a positive response.
Abu Yusuf said he believes Netanyahu's letter will reflect what occurred in meetings in Amman between Molcho and PA negotiator Saeb Erekat.
Peace talks between Israel and the PA have been frozen since Jordan hosted the "exploratory meetings" between Erekat and Molcho. The PA refused to continue to talk after those meetings and went even further by threatening to cancel all agreements signed after 2000 if Israel does not agree to all its demands before peace talks.
In a speech in Tunisia earlier this month, Abbas claimed Netanyahu is "a partner for peace", but repeated his demand that Netanyahu choose "between peace and settlements."