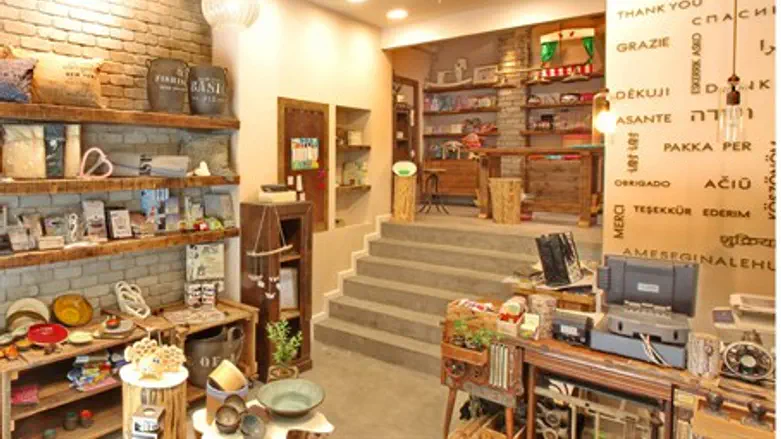 Kelim Sheluvim
Lubka
A new store which opened this week in the heart of Tel Aviv is described as social, special and beautiful.
The store, Kelim Sheluvim, located on 229 Dizengoff Street (corner of Basel), is the result of a project by the Israeli organization Shikum Acher (lit. Different Rehabilitation) and is supported by the Israel Venture Network, Ministry of Health, the National Insurance Institute and Bank HaPoalim.
What makes the store unique is that contains gifts and objects that are the work of artists and craftsmen with special needs. In addition, the store is operated by people who are dealing with mental disabilities and who are working as salespeople and shift leaders.
"In this store we have a wide variety of products made by people with various disabilities," explained Tomer, one of the shift leaders at Kelim Sheluvim. "We've collected all these items into one shop."
Tomer, who deals with depression and borderline personality disorder, said that working at Kelim Sheluvim "is an attempt to balance myself in my daily routine. Every morning I wake up with a sparkle in my eye."
"This helps me, as mentally disabled person, to integrate back into the community," he added. "It gives me the feeling that the sky's the limit, as they say. The moment I tell the customers who I am and what the project is, they stand there with their mouths open and both sides – myself and the customers – are excited. It's amazing to see just how much they are willing to give from themselves to this place."
Michal Topaz, who headed the project, told Arutz Sheva, "About eight years ago, during my undergraduate studies, I volunteered at the Geha hospital where I was first exposed to people who are dealing with mental disabilities. It was there that I understood the reluctance and fear that the broad public has towards these people."
She explained, "We wanted to change things so we established an organization with the purpose of rehabilitating people with a mental disability by integrating them in the workforce and into the community. In the past eight years we've seen many successes, rehabilitation processes that people have undergone.
"They've integrated into the community and their quality of life has improved. These success stories are the main motive to opening this store, the purpose of which is to sell products made by organizations. We're talking about products that are made at all kinds of organizations by at risk youth, people who are suffering from mental disabilities, people who are mentally challenged, elderly, really all the disadvantaged populations. 
"As far as I'm concerned this is truly a climax because this store is operated by people who deal with mental disabilities.".
Kelim Sheluvim is open from Sunday to Thursday between the hours of 10:00 a.m. and 7:30 p.m. and on Fridays and afternoons before a holiday between 9:00 a.m. and 3:00 p.m.