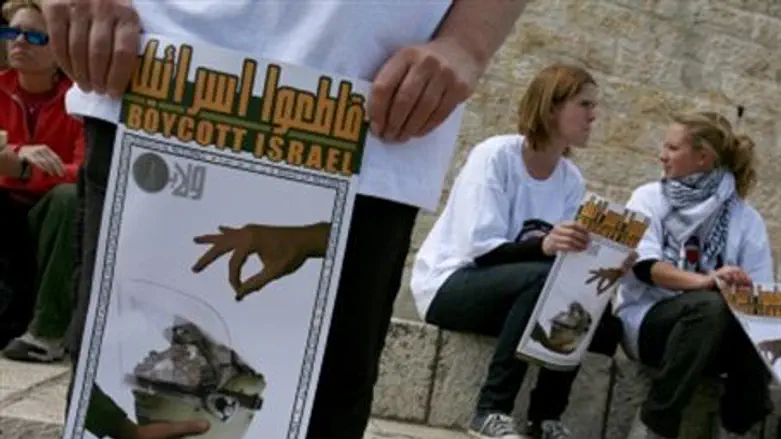 Boycott supporter
Israel news photo: Flash 90
In their most recent onslaught, Students for Justice in Palestine (SJP) at the University of California San Diego (UCSD) have been launching false accusations against those who sought to counter efforts promoting divestment from the State of Israel.
Member of the student government, Ashton Shahyad, and pro-Israeli professor, Shlomo Dubnov, have been targeted by SJP group because they voted against a resolution demanding that UCSD sell its stock holdings in shares of GE and Northrop Grumman, because the corporations manufacture materials used by the Israeli Defense Forces, Front Page Magazine reported Monday.
The resolution, which was brought before the UCSD Student Council on February 29, was defeated 20-13. Shortly after, both men came under attack.
Following the resolution's defeat, Amal Dalmar, co-chair of the Student Affirmative Action Committee (SAAC), sent an email signed by six other students to the UCSD administration, claiming that they were "verbally physically and emotionally attacked" during the debate and were "not going to allow such behavior to continue." The group then demanded the university release $7000 to them so they could bring a pro-divestment speaker to campus.
Professor Dubnov was then accused of espousing a racist rhetoric and of verbally attacking pro-divestment student Noor El Annan.  The UCSD Office of Prevention of Harassment and Discrimination (OPHD) initiated an investigation, which revealed that the accusations were complete fabrications and professor Dubnov was fully exonerated.
Cohen, a Persian Jew whose own family includes Muslims, came under fire because he decided to dress up in a traditional Arab garb for a costume party. He was photographed posing with three women, two of whom are Muslim. One of the Muslim women posted the photo on Facebook with the caption "three wives?" The photo was sent to El-Annan, who posted it on her own Facebook profile, claiming she was "offended and disgusted" by the photo because "something that my grandparents would have worn was funny to him." Cohen denied the accusation, contending that it was nothing more than "an intimidation tactic because of my vote against divestment," Front Page Magazine reported.
Ironically, on April 18, 2012, SJP members dressed up as Israeli soldiers and conducted a mock "Israeli Check Point" in the middle of the UCSD of campus. Such efforts on behalf of SJP to demonize the State of Israel have become rampant and increasingly hostile.
Ironically, this demonstration occurred only four days after UCSD reached an agreement with the federal departments of Justice and Education in the aforementioned Compton Cookout investigation, after which the university promised to maintain an Office for the Prevention of Harassment and Discrimination that would receive, investigate and resolve such complaints.
"This is clearly a politically motivated attack since I voted against divesting from Israel. Many Council Members accusing me of being racist and demanding for me to be 'held accountable,' referenced my vote against divestment. Their libelous accusations are meant to silence my voice. I will not be bullied into silence," Cohen wrote in an article published in the school newspaper.