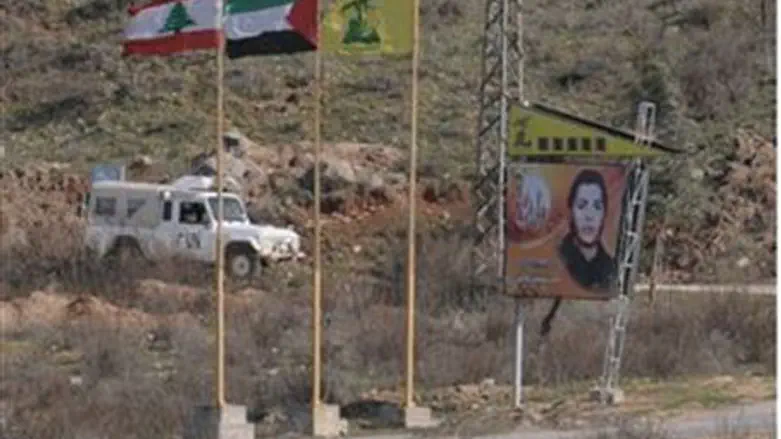 Lebanon border
Israel news photo: Flash 90
IDF forces carried out a series of contingency maneuvers along the Blue Line on Tuesday to prepare for a possible attack as it constructs a 6-meter high separation wall between Israel and Lebanon.
According to Lebanese sources, tens of Israeli soldiers were deployed in the defacto border region and were visible from the border town of Kfar Kila.
The troops – said to number in the "tens" – deployed using Hummers and asked the construction company to evacuate the area for practice. 
Villagers in Kfar Kila told the Lebanon Daily Star that IDF soldiers were seen transferring pretend wounded army personnel to an ambulance as part of an emergency scenario.
Other soldiers were said to have taken up positions at different points along the fence.
Israel notified the UN Interim Forces in Lebanon (UNIFIL) earlier Tuesday of the maneuvers, which in turn notified the Lebanese Army so as to avoid unnecessary alarm.
The Lebanese Army deployed a similar sized force to observe after informing UNIFIL that it expected the IDF not to cross the Blue Line during the construction process.
Israel began construction of the separation wall between Lebanon and the Jewish state on Monday. The wire fence currently in use will eventually be replaced with 4-meter-high concrete blocks topped by 2-meters of fencing and barbed wire.
Jerusalem says the wall, which will stretch from the former Jidar al-Tayyib Gate to the Fatima Gate crossing, is intended to protect residents of the border town of Metula, which faces Kfar Kila.
Lebanese officers were given topographical maps to follow the construction as it happened and ensure that it met the prearranged conditions.
Members of the UN Disengagement Observer Force worked with the Israeli army to ensure that the wall was erected within Israeli territory.
The Blue Line serves as a defacto border between Israel and Lebanon based on a United Nations survey endorced by UN Security Council Resolution 425.
On 25 May 2000, following Israel's withdrawal from southern Lebanon, Jerusalem notified the Secretary-General that Israel had redeployed its forces in compliance with the resolution.
The decision to follow the UN recommendation came after Beirut declined to participate in negotiations aimed at formally demarcating its border with Israel.
Nonetheless, the Blue Line closely follows the internationally recognized boundaries of Lebanon from 1949, but does differ by some 475 meters along half a dozen stretches.
Between 1950 and 1975 teams of Israeli and Lebanese surveyors did complete a topographical survey of approximately 50% of the border between the two nations, but no formal treaty was ever signed.
Meanwhile, Hizbullah members have placed pictures of Iranian President Mahmoud Ahmadinejad along the border road connecting Fatima Gate to Adaysseh.